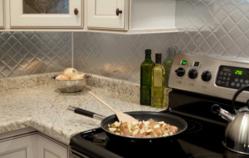 Neenah, WI (PRWEB) January 06, 2012
Consumers looking for an inexpensive yet stylish update for their kitchens have a refreshing new option in DIY backsplash tile project kits from ACP. According to Rob Rebman, president of ACP, "The kits, which start at just $149, offer countless unique style and finish combinations, giving homeowners the ability to design their kitchen backsplash according to their own tastes. "
The 18" x 24" faux metal kitchen backsplash panel kits are available in 13 different style designs and 20 color finishes, ranging from traditional to modern to industrial. The panels are water, impact and stain resistant — at a fraction of the price of other materials.
The 3" x 6" peel and stick metal tile backsplash kits offer sleek and sophisticated elegance in 4 brushed finishes including stainless steel, copper, bronze and champagne. All are available in long and short grain, making it easy to create a DIY kitchen backsplash with unique texture and contrast. They can also be used in multiple applications including backsplash, walls, counter tops, cabinets, toe-kicks, details, accents and more.
BacksplashIdeas.com offers free shipping and returns every day and takes all major credit cards, Google checkout and PayPal.
BacksplashIdeas.com is an exclusive online retailer of ACP products. We represent Backsplash product lines that ACP manufactures and will continue to add more as they become available. ACP's products blend ingenuity with style — giving our customers finished projects that feature easy installation, quality, affordability and timeless appeal. Our biggest investment is our "customer-first" approach. With helpful staff available on our toll-free customer service line, or in the field for sales inquiries, or sample requests, we ensure satisfaction on every project. Company contact information: ACP - 555 Bell Street, Neenah, WI 54956. 800-434-3750
###