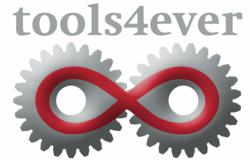 Seattle, WA (PRWEB) January 05, 2012
Tools4ever, the market leader in Identity and Access Management solutions, is pleased to announce that their product, User Management Resource Administrator (UMRA) has been named one of winners of the District Reader's Choice Top 100 Products of 2011. The nominations were submitted by readers of the magazine, which included superintendents and district level directors. The final winners were then chosen from the submissions by District Administration Magazine. This acknowledgement is given to companies who have products that support educational innovation. Tools4ever has years of experience in the educational market, where products such as UMRA and Enterprise Single Sign-On Manager (E-SSOM) are deployed daily to manage the user accounts of students and teachers.
Tools4ever's UMRA is an enterprise software solution for timely, accurate, uniform and foremost, simple, user account management in the education market. UMRA eliminates the need for manual account management based on scripts or difficult labor-intensive procedures. Administrative control allows UMRA to be designed for secure delegated account management to non-skilled staff.
District Administration's editor in chief, Judy Faust Hartnett said "The recommendations we receive include extensive descriptions from school administrators of how these products are used in their districts and the difference they have made, making it very challenging to choose only 100 products. We hope these products and their accompanying testimonials will provide a valuable resource for our readers."
About District Administration
District Administration is a monthly publication covering all of the important topics faced in today's K12 school systems. With a circulation of more than 73,000, District Administration reaches top decision-makers in virtually every school district across the country. Subscribers are district-level leaders in K12 education, including superintendents, assistant superintendents, curriculum directors, business officers, IT directors and federal funds administrators. For more information, visit http://www.DistrictAdministration.com.
About Tools4ever
Tools4ever distinguishes itself with a no-nonsense approach and a low Total Cost of Ownership. In contrast to comparable Identity & Access Management solutions, Tools4ever implements a complete solution in several days rather than weeks or months. Because of this approach, Tools4ever is the undisputed Identity & Access Management market leader, with more than one million user accounts managed on a daily basis.
Tools4ever supplies a variety of software products and integrated consultancy services involving Identity Management, such as User Provisioning, RBAC, Password Management, SSO and Access Management. For more information, please visit http://www.tools4ever.com.
###