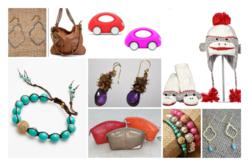 Blue Star Bazaar is hosting a one day sale on current inventory to make way for new spring merchandise.
Wilton, CT (PRWEB) January 06, 2012
Blue Star Bazaar is hosting a one day sale on current inventory to make way for new spring merchandise. Save up to 60% by shopping in Wilton, CT on Wednesday, January 11, 2012. Save 20% now through January 15, 2012 by shopping online.
The event will take place at 7 Rolling Ridge Road in Wilton, CT from 10:00 am to 5:00 pm on January 11, 2012 at the headquarters for Blue Star Bazaar. Owner, Megan LaBant Abrahamsen will be on hand to offer unique gift ideas for women, men, and children. Items include jewelry, heirloom quality toys, scarves, handbags, accessories, and children's clothing.
Some of the items to be included are:

Watches from Tokyobay. These fashionable watches for women and men look great year round. Normally priced at $75 to $85, they're always a great value. However, during the sale, you can pick up select styles at 30% off.
Whimsical t-shirts for children. Blue Star Bazaar offers fun cotton t-shirts for kids featuring superheroes, rockets, Hello Kitty, and more. Brands include DxXtreme, Green Egg, and Imagine Greenwear. Prices are normally $30 each. Stock up on select styles for 50% off.
Ladies Handbags. Functional tote bags and stylish clutches some in a variety of sizes, styles, and materials. Most will be 50% off.
Toys for Children. Christmas may be over but you can stock up on great heirloom quality toys for birthday parties, Valentine's Day, or Easter. Many toys will be up to 50% off.
Holiday items. Stock up on stockings, Christmas linens, and hostess gifts for next year. These items will be 60% off.
For those shoppers that aren't able to make it on January 11th, you can still save online. Use code NEWBLUE at checkout to save 20% on your total purchase online through January 15th, 2012.
Blue Star Bazaar, founded in 2010 by Megan LaBant Abrahamsen, is an online retailer of unique gifts for women and kids. For those looking for unique gift ideas, Blue Star Bazaar offers a range of products that meet the tough standards of quality, individuality, style, and value. Product categories include jewelry, scarves, watches, handbags, t-shirts, toys, and home accessories. Find the perfect gift at Blue Star Bazaar, headquartered in Wilton, CT.
To learn about future events and sales and receive a $10 bonus, register here.
###