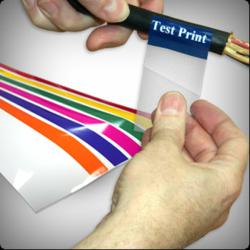 Color coded wires and cables are in compliance with ANSI/TIA/EIA-606A...
Portland, OR (PRWEB) January 10, 2012
Graphic Products, Inc., has introduced new DuraLabel color-coded, self-laminating labels for telecommunications professionals to help identify cables and wires. Locating, repairing and upgrading telecommunications system cables and wires are much easier when labels are color-coded. Color coded wires and cables are in compliance with the ANSI/TIA/EIA-606A Administration Standard for Telecommunications. This standard calls for labeling visibility (size, color and contrast) and durability. The standard also calls for a uniform labeling format that includes the type, location and purpose of all cables and end-points plus color coding for faster and easier identification of all elements. Labels must be created or printed with a mechanical device as handwritten labels may be illegible.
A self-laminating wrap provides an opaque header on which cable identification information is printed. A clear tail wraps around the cable or wire to protect the printed information. This added protection helps printed text, pictograms, colorful headers and bar-codes stay vibrant and resist fading and scratching on most any size wire or cable. Both terminated and non-terminated wires are easily labeled with these self-laminating wire-wraps. Once printed and cut, this supply attaches around itself for a tight-fitting label. DuraLabel self-laminating wire marker labels are available in 8 colors:

Black
Blue
Green
Orange
Red
White
Yellow
Magenta
Cables up to about 0.9 inches in diameter may be labeled. Resistant to moisture, sunlight and chemicals such as alcohol solvents and cleaning agents, DuraLabel self-laminating wire wraps can be used in locations exposed to harsh conditions.
The color-coded section of the wire wrap is available in a number of sizes, including custom sizes.
Coupled with a DuraLabel thermal transfer printer such as the DL PRO300 and software, users can print hundreds of labels on the fly and incorporate graphic images onto labels for a professional appearance and lasting identification.
The DuraLabel PRO 300 Wire Marking Kit, http://www2.graphicproducts.com/p-7600-dlp-wire-marking-kit.aspx, has everything needed to get started on wire marking projects. The kit includes:

DLPRO300 label printer
1/8" white shrink tube
3/16" white shrink tube
1/4" white shrink tube
3/8" white shrink tube
½" white shrink tube
3" x 1" self-laminating wire wrap
2" x ½" self-laminating wire wrap
1" x ¼" self-laminating wire wrap
2.5" black shrink tube ribbon
4.3" black ribbon
Graphic Products, Inc. began operations more than 40 years ago. With more than 50 unique labeling supplies providing the right label material for nearly any type of environment including Arc Flash and Pipe Marking, a full family of thermal transfer printers for every application, a five-year vinyl supply warranty, free technical support and satisfied customers throughout the world, Graphic Products is equipped to solve unique problems in the industrial safety arena. For more information, visit http://www.GraphicProducts.com.
###