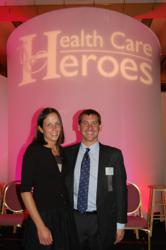 "Partners with people like Keith (Kleeman) made linaclotide move very fast by industry standards," said. G. Steven Geis, Ph.D., M.D.
Cincinnati, Ohio (PRWEB) January 10, 2012
It takes 15 years on average to move a new drug or medical device through clinical trials to FDA application, but a Cincinnati medical writing company created efficiencies that allowed a Boston pharma company to move through the process in just nine years.
Medical Communication Consultants of Cincinnati, Ohio, helped Ironwood Pharmaceuticals of Cambridge, Mass., create the clinical documents that allowed it to move through the new drug pipeline very quickly-- allowing the pharma company to benefit from six extra years of patent protection.
More important than profits, however, is that its irritable bowel medication linaclotide could get to patients six years sooner than the industry average.
MCC created nearly all of Ironwood's clinical documents in support of its development programs from 2004 to 2007, including documents that ultimately were used in support of Ironwood's 2011 submission of a New Drug Application (NDA) for linaclotide, a compound developed for the treatment of irritable bowel syndrome and chronic constipation.
Keith Kleeman, 37, is president of Medical Communication Consultants (MCC) of Cincinnati, a medical writing service that has seen an average of 68 percent growth rate each year for the past five years. MCC creates documents for new drug development from clinical trials through FDA application.
Founded in 2004, MCC has taken advantage of technology and the trend toward outsourced personnel to build a highly-successful medical writing business. Kleeman now has more than 170 medical writers in MCC's Writers Initiative Network™ (WIN™) stable. WIN is the medical writing industry's first Clinical Resource Coalition™ (CRC™) and manages expert medical writers assigned to specific drug development projects based on experience and drug or medical device expertise.
Kleeman credits his company's success to a combination of factors, which include efficiency; the flexibility of employing an outsourced medical writing team; and scalability of projects. His very first client was Microbia—now Ironwood Pharmaceuticals, Inc. of Cambridge, Massachusetts—then a small drug development company with no medical writers.
To have a small company like Ironwood-- which had never developed a drug before-- achieve this in a little less than nine years is phenomenal, said G. Steven Geis, Ph.D., M.D., partner in Geis-Hides Consulting, LLC of Chicago.
Geis is famous in pharmaceutical circles as the man behind Celebrex. He was the global vice president for arthritis, pain and oncology at Pharmacia when Kleeman was a young medical writer in Indianapolis. Celebrex was the first selective COX-2 inhibitor approved by FDA. The strategic processes Geis and his team built into Celebrex testing, studies and documentation have become the backbone of his consultancy firm, Geis-Hides Consulting.
"Infrastructure in clinical or regulatory, and partnerships with people like Keith helped Ironwood move very fast by industry standards," he said. "These folks did high quality work. I'm quite impressed."
"We partnered with Ironwood based on their needs," said Kleeman. "Back in 2004, when we started, I was just a medical writer, and Steve hired me and encouraged me to form my own medical writing organization."
Geis and George Hides have 40 years of experience specializing in helping pharma companies set up development strategies that smooth the way for new drug and medical device FDA approval. In 17 years of orchestrating new drug clinical trials, Geis has had 14 FDA submissions, with nine FDA approvals. His firm specializes in arthritis, pain, oncology and ER medicine.
MCC was part of the critical design-- protocols and reports—that was so important to Ironwood in its early years, said Brian Cali, Ph.D., a company founder. Cali is now senior vice president of Preclinical R&D at Ironwood.
MCC was an important partner in Ironwood's early days, said Cali.
"Keith helped us define a framework and process for clinical study outlines, protocols and reports" he said. "He was a key part of setting up an architecture and the use of a common language throughout our clinical documents. MCC brought a strong, disciplined approach to the medical writing process."
Most of the early documents MCC created for Ironwood were written virtually—off site from company headquarters--- with quarterly, then monthly visits to Cambridge during intense periods of activity, said Cali. When the company ramped up its development of linaclotide and other pipeline programs, it employed an onsite medical writing staff.
"Kleeman is a clear example of someone very talented who is willing to learn and put a lot of effort into it," said Geis. "He came in and really satisfied them in the very early days— and if you don't get the strategy right in early days, then you're going to struggle." Geis has been a key advisor to Ironwood from before linaclotide started in clinical trials.
"We created a methodology, which moved quite swiftly and has been very successful because we created efficiencies throughout the development process," said Geis. "Writing is a very significant exercise in the development process of a drug. You need to get on paper and lay out clearly exactly what you want to accomplish, so we needed good writers from the get-go."
Geis said it's important to know what the goal is and have everything lead toward that goal. "We find it helpful for clients to take this approach," said Geis. "We get in the trenches with our clients and work with them to put together a strategy. We try to become an integral part of the company's development team and think that's what makes the difference in what we do."
In the end, Geis said, if writers don't get it right, and don't write efficiently and rapidly, the whole process can be slowed down. "The exception is that one guy who integrates himself very effectively," he said. "Ironwood allowed Kleeman to integrate into their process. So they moved forward as a single unit, and I think that's what made all the difference. Infrastructure in clinical or regulatory, and partners with people like Keith made linaclotide move very fast by industry standards."
Cali said MCC was a great partner when his company was in start-up mode. An advantage was the flexibility of having an outsourced medical writing team. "When you don't need the writer, you don't have that cost overhang," he said. "It's a particular advantage for a young, start-up company with no reason to take on those costs internally."
Geis said he thought it was "extraordinary" that a new company like MCC made itself so effective in working with Ironwood. "It basically shows what a high level of teamwork and communication can do in terms of bringing a product forward to the FDA."
"Keith is smart, positive, passionate and customer-oriented, and willing to bring ideas forward," said Cali. "He understands the needs of an entrepreneurial organization and adapts to that. We were very aligned in that regard."
MCC provides medical writing solutions to companies seeking Food and Drug Administration approval for new drugs and medical devices. MCC's structure allows it to seamlessly integrate into each client's processes, creating an efficient, scalable and affordable medical writing solution for every project.
For more information about MCC, go to http://www.medicomconsultants.com or call (513) 891.2337.
###