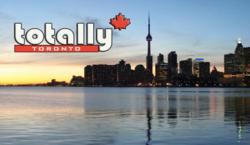 Totally Toronto (www.TotallyToronto.net) website launched to shape the future of web tourism for Toronto.
Toronto, Ontario, Canada (PRWEB) January 14, 2012
Totally Toronto Travel and City Guide has been launched and expects to shape the future of web tourism for the city of Toronto. With detailed articles and guides covering all aspects of the city of Toronto coupled with social media techniques, Totally Toronto leaves no industry unturned when it comes to promoting the city.
With a strong backbone and attention to detail, Totally Toronto is aptly designed. All of the topics are intricately connected to each other, allowing for easy flow through the site.
Totally Toronto starts the way it wants to finish…strongly and efficiently.
Totally Toronto is the baby sister to the highly successful Barbados Island Guide website, Totally Barbados. The founder, Brett Callaghan, revolutionized the way Barbados promotes online tourism.
And after six years, the website can be found on the front page of every search engine and it was voted the World's Leading Travel Destination Website for 2008, 2009 and 2010.
After such success in his native home, and because of his roots in Toronto, Callaghan has set his sights on also promoting the city of Toronto to the world.
"As I have lived 12 years of my adult life in Toronto, I wanted to promote my second home and the city to the world, just as I do with my home country Barbados".
"Toronto is our first stop as we move across Canada, creating a detailed and informative Online Guide to promote every city throughout the country of Canada."
With a team of professional writers, articles are created for all topics that relate to the city of Toronto. You can find information about the city of Toronto, entertainment, restaurants and dining, to real estate, business, Toronto hotels and accommodation, attractions and so much more.
But there is only so much room within each industry guide for businesses to play with. This has given TotallyToronto.net a competitive edge. With only twenty (20) photo ad-spots available on each page, it is first come, first serve, for any businesses wishing to become a premium member and join the efforts in promoting the city of Toronto to the world.
Unlike most websites, Totally Toronto has a 'no banner' policy, so the only images viewers see are the colorful splashes made by the photo ad-spots.
Along with photo ad-spots, Totally Toronto clients also receive an interactive profile page. The profile page features their contact information, a brief bio, a Google map, and four photos of their choice.
Totally Toronto also allows for potential customers to connect with the client through the website. All of these features are available in customizable packages.
These packages are well thought out between the Web Account Manager and the client. Totally Toronto prides itself on its flexibility with the main goal being to promote the company in a natural and precise manner.
Together, they find the best pages to advertise on for each company and it builds from there. You can also have the 'Totally Team' write a bio or take professional photos for your company.
Getting a company successfully uploaded is only half of Totally Toronto's job. The website has been designed for maximum Search Engine Optimization (SEO). Our social marketing team never stops promoting your business on every social medium, such as; Facebook, Twitter, StumbleUpon, Google +, Diigo, Delicious and LinkedIn.
Be sure to visit the newest website that redefines Travel and Tourism for the City of Toronto – Totally Toronto.
Totally Canada Inc., operating under the name 'Totally Toronto' is based in Toronto, Canada with offices in Barbados. The company was incorporated under the Business Corporations Act (Ontario) on September 23rd, 2010.
Totally Toronto aims to help local businesses shine alongside Toronto's corporate titans.
By guiding visitors to your business on Totally Toronto, it will gain increased exposure online, before a visitor even steps outside their home, hotel or airplane.
Promoting all there is to know about Toronto - that's Totally Toronto.
Media Contact
Founder and Managing Director
Brett Callaghan,
Totally Canada Inc. / Totally Toronto,
30 Silvermoon Avenue,
Toronto, Ontario,
L7E 2&9, Canada
For more information on Totally Canada Inc. / Totally Toronto, please call (866) 978-5898 or (416) 628-8795.
Email: service at totallytoronto.net
###