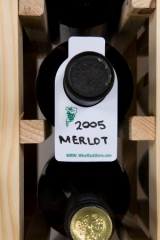 "It's our chance to further enhance what we already do great and make it even better."
Olympia, WA (PRWEB) January 06, 2012
Last year, WineRackStore.com was just beginning to carve out its path in social media and search-marketing, but events coming up in 2012 will certainly shed light on a whole new online perspective for this wine rack and wine cellar retailer.
In 2011, WineRackStore began relationships with various search-marketing specialists to ensure they continued their top placement over other wine rack and wine cellar competitors. They even enhanced local visibility by attending such events as Taste! Washington and various wine related fundraisers in the Olympia, WA area.
Now that their in-house marketing strategy has been fully implemented, they are ready to take on even more. "Just because we are the top of the competition in the wine rack and wine cellar market doesn't mean we can loosen the reigns," said Director of SEO & Communications, Heather Hoskins, "Rather, it's our chance to further enhance what we already do great and make it even better."
Already on the roster this year for WineRackStore.com attendance is another round at Taste! Washington and newly added MOZcon, both Seattle-based events. Sprinkled with various other wine related events in Washington's Puget Sound area, WineRackStore also hopes to make appearances at SerachFest in Portland, OR, AMA Marketing Workshop in Las Vegas, NV and PRSA in San Francisco.
Owned by Michael and Denise Kitson, WineRackStore.com has been selling quality pre-made and custom built wine racks, wine cellars and wine accessories since 1995. WineRackStore.com is A+ rated from the Better Business Bureau. All products are locally crafted in Olympia, WA and are shipped free anywhere in the contiguous United States.
###