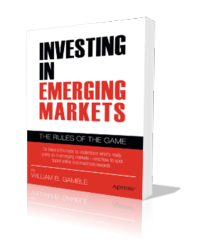 "When you invest in emerging markets, you must understand: You are not on Wall Street anymore."-author William B. Gamble
New York, NY (PRWEB) January 05, 2012
"Investing in Emerging Markets," a new release from Apress Media, sheds light on this highstakes game. Everybody says that emerging markets will grow, grow, grow. Everybody says that the way to make tons of money is to invest in China, India, Brazil, and Russia. Everybody says that the U.S. and other developed markets are dead.
But what if everybody is wrong?
It seems to make logical sense: Emerging markets are youthful, sitting on abundant natural resources, vibrant, and filled with entrepreneurial zeal. To find real growth—and make a good return on your money—you'd better put it to work in emerging markets.
Not so fast, says money manager William B. Gamble, author of "Investing in Emerging Markets: The Rules of the Game." "Our old, tired countries and markets have something most emerging economies don't have: rules, procedures, regulatory watchdogs, and other mechanisms to protect investors from political mischief, cronyism, insider trading, outright theft, and a lot more that we take for granted. When you invest in emerging markets, you must understand: You are not on Wall Street anymore."
For Gamble, it is not just where you invest, but how. If you understand the rules, and the game, you can play to win. In the last year alone, the stars of the investment management community have lost their shirts—and their investors' shirts—because they didn't get it. They didn't understand the rules and so were on the losing side of a game that fixed against them.
There is plenty of opportunity for retail investors to make money in emerging markets. There are also promising prospects for managers or investors thinking of opening manufacturing facilities or retail outlets in them, or partnering with established companies. "But," says Gamble, "go into these countries with your eyes wide open. Understand the nature of the economy, the culture, the government, the legal system, and all aspects that will have an impact on your investment. Otherwise, you will lose your money."
"Investing in Emerging Markets" helps keep your vision clear by providing that cultural, legal, and economic overview of all the major emerging markets, including the fabled BRICs (Brazil, Russia, India, and China). It also covers nearly a dozen other markets, including South Korea, Indonesia, Malaysia, Turkey, Mexico, and South Africa.
"Investing in Emerging Markets" is the guide you need to help you navigate countries and cultures that behave in ways that can surprise, exasperate, ruin, and enrich you.
To learn more about Investing in Emerging Markets, visit http://www.apress.com/9781430238256
Investing in Emerging Markets

by Wiliam B. Gamble
ISBN13: 978-1-4302-3825-6
196 Pages
Publication Date: December 14, 2011
Available eBook Formats: EPUB, MOBI, PDF
Print book: $19.99
Ebook: $13.99
About William B. Gamble
William B. Gamble is an international lawyer and consultant specializing in emerging markets. He has written weekly columns for financial papers in Dubai, Alrroya, and Mumbai. He has had 27 letters published in the Financial Times and many in the Wall Street Journal. His articles have appeared in Foreign Affairs and the Harvard International Review. He has been quoted in MarketWatch, The New York Times, USA TODAY, The Far Eastern Economic Review, The Asset, The International Herald Tribune, The South China Morning Post, Sankei Shimbun, and The Investment Professional. He is often interviewed by NDTV Profit (India) and has been inter-viewed by ABC, CNN Asia, Bloomberg, Fox, CNBC, NPR, Yahoo Finance, and other television and radio stations around the world. He is the author of Investing in China and Freedom: America's Competitive Advantage in the Global Market. Gamble is on retainer to speak to groups of Chartered Financial Analysts around the world.
About Apress Media
Apress Media LLC is a technical and business publisher devoted to meeting the needs of IT professionals, software developers, programmers, and business leaders with more than 1,000 books in print and electronic formats. Apress provides high-quality, no-fluff content that helps serious technology professionals build a comprehensive pathway to career success. For more information about the innovative approach Apress takes to publishing, please visit http://www.apress.com.
###