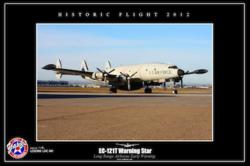 Chino, CA (PRWEB) January 10, 2012
A Cold War hero will take to the skies once again as the world's only flyable Lockheed EC-121 Super Constellation "Connie" flies home to Yanks Air Museum for permanent display on Saturday, January 14, 2012.
This historic flight will bring to a close a seven-year project to get this amazing goliath aircraft back into the air. The "Connie" will take off from Camarillo Airport Saturday morning and will fly to it's new home in Chino where it will join 170 aircraft already on display at Yanks Air Museum in Chino, California.
Don't miss this rare opportunity to see this elegant aircraft in flight as she roars overhead and touches down at the Chino Airport in Chino, California at approximately 12:00 noon on Saturday, January 14, 2012. In addition, Yanks Air Museum will be hosting a number of family-friendly activities including aircraft tours, photo ops, the opportunity to meet the crew, and signed free posters (while they last) with purchase. Limited edition signed artwork and a "first-aboard" aircraft VIP tour will also be available. To celebrate this event the museum will be open both Saturday and Sunday from 8:00 AM to 4:00 PM.
This aircraft had Top-Secret capabilities and monitored the skies for hostile aircraft for over 44 years during the height of the Cold War often flying missions 24 hours a day. It served over the Pacific as well as Taiwan, South Korea and Iceland during the Cuban Missile Crisis. You need only to take a look inside to see the massive electronic and technological capabilities of this aircraft.
The civilian version of the "Connie" had an illustrious career with Pan Am and TWA during the elegant era of air travel. In 1944 TWA President Jack Frye and Howard Hughes took Orville Wright up in a "Connie" for his last flight. Designed in part by the legendary Kelly Johnson the "Connie" can be easily recognized by the sleek dolphin shaped fuselage and her triple-tail design. This amazing aircraft's engines are more powerful than eight diesel locomotives and could power an entire city.
Don't miss the chance to marvel at this incredible aircraft in flight and the rare opportunity to see inside one of the Cold War's Top Secret aircraft at Yanks Air Museum - Where the Legends Live On.
###