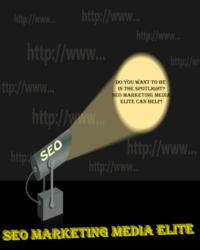 Want to be in the spotlight? SEO Marketing Media Elite can make it happen.
Cedar Lake, Indiana (PRWEB) January 05, 2012
SEO Marketing Media Elite, an Indiana web design firm, has made changes to their Facebook page to help improve customer communication and build relationships. SEO Marketing Media Elite has linked their Facebook and Twitter accounts, thus enabling customers that may not have a Twitter account to follow and comment on tweets directly on their Facebook page. Similarly, any major posts on Facebook will be tweeted so their Twitter followers know to check Facebook for recent updates.
SEO Marketing Media Elite would like to welcome anyone to follow and post questions to their Twitter handle @eliteseomedia. SEO Marketing Media Elite also encourages clients or anyone else that may be interested in learning about best web design or SEO tactics to post their questions to their Twitter or Facebook accounts. They will be monitoring both accounts several times a day and will try to answer all questions within a couple of hours. Topics that they welcome questions on include, but are not limited to, website design, search engine optimization, search engine marketing and corporate web marketing .
Starting January 16, 2012 SEO Marketing Media Elite will be giving away free facebook apps to anyone who "likes" their Facebook page. Be sure to stay posted on their updates to help make 2012 a profitable year for your business.
###