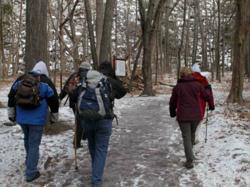 We are thrilled with the turnout for this inaugural event and hope that these hikes have inspired our visitors to continue hiking and recreating in our state parks throughout the year.
-Ruth Coleman, NASPD President
Washington, DC (PRWEB) January 05, 2012
America's State Parks stepped into 2012 in spectacular fashion with guided First Day Hikes across the country in all 50 states January 1st. From Florida to Alaska and Maine to California, over 14,000 people celebrated the New Year by hiking in a state park, choosing from 400 hikes sponsored by state park systems throughout the nation. In past years, many parks have offered special programs on New Year's Day, however, this is the first time all 50 state park systems joined together as America's State Parks to host First Day Hikes on January 1, 2012.
"We thought that New Year's Day was the perfect opportunity for people throughout the nation to start 2012 by connecting with nature, engaging in physical activity in our state parks and promoting healthy lifestyles all year long," said Ruth Coleman, President of the National Association of State Park Directors (NASPD). "We are thrilled with the turnout for this inaugural event and hope that these hikes have inspired our visitors to continue hiking and recreating in our state parks throughout the year."
"Physical activity and getting out in nature is essential to our well being," said Phil McKnelly, NASPD's Executive Director. "Our state parks are the perfect backdrop for exercising and having fun, as well as enjoying the diversity of the natural resources that are a hallmark of our country."
The majority of hikes were moderate, appealing to a wide audience, yet some adventure seekers selected strenuous hikes to get their hearts pumping for the New Year! Nationwide, participants hiked over 30,000 miles, enjoying a diversity of landscapes and a variety of temperatures. Many spotted wildlife, experienced commanding views and learned some history of the parks they visited.
In Massachusetts, Governor Deval Patrick joined 84 hikers for a strenuous First Day Hike up Mount Greylock, the state's first wilderness state park and the state's highest peak. Across the state, at the Blue Hills Reservation, the Massachusetts state park where First Day Hikes originated 21 years ago, 1000 people joined ranger led hikes after signing a "Naturally Healthy New Year" Resolution. Participants pledged to engage in outdoor recreation in state parks and to eat locally grown and produced food products to promote good health.
In California, over 500 visitors who hiked in 25 state parks were treated to some unique sights. Fittingly, 16 people greeted 2012 at Año Nuevo State Park which means "New Year" in Spanish while participants at Anza-Borrego Desert State Park spotted a bighorn sheep. At Palomar Mountain State Park, 30 hikers climbed a 1948 fire tower, never before open to the public, to see views of San Diego County. John and Jeannie Parsons renewed their wedding vows at the top of Rojo Grande Mountain at the Picacho State Recreation Area, having spent their honeymoon there 30 years ago.
With temperatures 15 below, 18 brave hikers explored Chugah State Park in Alaska where light snow provided a winter wonderland.
At Barr Lake State Park in snowy Colorado, one of 12 state parks offering hikes, 34 hikers saw 72 bald eagles. At Colorado's Castlewood Canyon State Park, two volunteers, dressed as homesteaders, greeted visitors at the Lucus Homestead midway through the hike. Visitors experienced the life of a dairy farmer in 1899 and were treated to tea before hiking back through the montane shrubland and forest.
At a First Day Hike at Fort Frederick State Park, Maryland, a visitor from Bogata Columbia was treated to the site of a bear swimming across a pond. In addition to offering 8 hikes, New Jersey also sponsored a First Day horseback ride at Kittatinny Valley State Park with 30 riders.
Georgia State Parks visitors could opt for a First Day Hikes weekend package which included lodging at one of the many resorts in addition to the hike. At Panola Mountain State Park, people "burned their burdens" from 2011, watching their handwritten notes quickly shrivel up in the post hike campfire.
In Hawaii, over 500 visitors to the Ka Iwi Scenic Shoreline State Park hiked up the summit of Makapu'u to conduct a Hawaiian sunrise oli (chant) as the sun rose on New Year's morning. Nationwide, participants expressed their enthusiasm for this first of kind initiative of America's State Parks and an opportunity to start the year connecting with nature.
Over 500 enjoyed potato soup after their two mile hike at Idaho's Eagle Island State Park while 500 enjoyed spiced cider after their hike at Mason Neck State Park in Virginia. Also in Virginia, participants hiked to Fossil Beach at Westmoreland State Park where they found sharks' teeth!
In South Carolina, one of the 335 First Day Hikers in 15 parks remarked, "There was a place inside myself that I couldn't find until I got outside."
And the universal message from this historic 50 state initiative is, "We can't wait to come back to the park and do it again!"
America's State Parks is committed to celebrating our great state parks and to promoting outdoor recreation in state parks as a way to address obesity, especially among children. Getting kids outside and unplugged from video games and other electronic media creates a unique connection with nature that promotes physical and mental well-being and encourages creativity and stewardship of our shared resources. For more information about America's State Parks, visit http://www.americasstateparks.org.
The mission of the NASPD and America's State Parks is to promote and advance the state park systems of America for their own significance, as well as for their important contributions to the nation's environment, heritage, health and economy.
Additional Contacts:
Priscilla Geigis
Vice President, NASPD
America's State Parks First Day Hikes National Coordinator
617-645-6270
Phil McKnelly
Executive Director, NASPD
919-971-9300
# # #