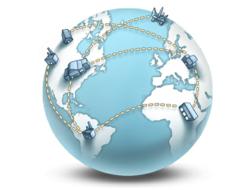 Socially connecting industrial buyers, sellers, and consumers to do business with one another.
Miami, FL (PRWEB) January 10, 2012
Merchantbook.com, a start-up social network with over 4.2 million companies visited by thousands of industrial buyers, consumers, and purchasing professionals each day, has put their hard-earned research money to proper use by offering business-to-business and business-to-consumer companies new, more innovative options to attract a larger portion of the 97% of customers that search for local businesses online.
The company believes that if businesses don't start "humanizing" themselves and fail to maintain a continual and impressive presence online, consumers and industrial buyers will source from their competitors and lose out on new sales opportunities. To prevent this from happening, Merchantbook has introduced helpful additions that have already proven to keep visitors on companies' profiles longer and increase their revenue. The longer visitors stay, the more likely a sale/relationship will be made.
One of the features recently added by Merchantbook to all of their profiles is a content-rich description of all of listed companies. Every company has a detailed description of what it specializes in and what it can provide potential customers. In addition to enhancing user experience among the thousands of sourcing professionals and potential buyers that visit Merchantbook.com each day, this new feature makes it easier for new companies to register.
When new users register their companies on Merchantbook, the website automatically creates a company description that accurately defines that company based on their main line of business. Companies can use this pre-made description as a foundation and add to it to tell their story. Having this feature saves the busy registrant valuable time that can be spent looking for potential customers and new suppliers on Merchantbook.
Merchantbook also included a comprehensive street view of each company that has also proven to augment the time that visitors spend on each company profile. Visitors can see for themselves exactly what the business looks like and where it's located in detailed street view form. The feature enhances the user experience while naturally benefiting the business that the user is viewing.
One of the things on the top of Merchantbook's to-do list is to give the site a make-over. As it tries to move past beta mode, the company wants to give the site a more intuitive and cleaner look. While the company has spruced up its design, it is currently working on an entirely new appearance that will drastically improve user experience, both for member companies and the people that visit the site. Stay-tuned for more updates and added features sure to come. Visit Merchantbook.com for more information.
###