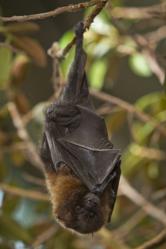 Silver Spring, MD (PRWEB) January 05, 2012
The Rodrigues fruit bat is the most endangered bat in the world, and 13 of them are now featured in the bat exhibit at the San Diego Zoo Safari Park. The exhibit will help facilitate the breeding of this critically endangered species while improving the bat's reputation by educating people about these amazing animals. The Association of Zoos and Aquariums explores this story on its Explore blog.
From sucking blood to getting tangled in your hair, there are many myths surrounding bats. In reality, bats are remarkable animals that play an important role in the environment.
As the only flying mammal, bats use echolocation to navigate easily both in broad daylight and pitch darkness. They are natural pollinators, and their guano acts as an effective fertilizer. Bug-eating bats are the main consumers of mosquitoes and other insects. During the course of just one night, some bats can eat half their weight in insects. Other bat species, like the Rodrigues fruit bat (Pteropus rodricensis), eat mainly fruits and flowers, which helps in the dispersing of seeds. Though most bats subsist on insects and fruit, one species of bat – the vampire bat – drinks blood as its source of food. However, they normally drink the blood of cattle and other large herbivores, presenting no danger to humans.
The United Nations, with support from the AZA Bat TAG (taxon advisory group), has declared 2012 the year of the bat. The goal of this species awareness initiative is to inform the public about the integral role bats play in their ecosystems. To find out what you can do to help save the bat, visit http://www.yearofthebat.org.
The Explore blog brings you exciting, informative, and inspiring wildlife conservation features, zoo and aquarium stories, and profiles. Be sure to visit http://wildexplorer.org to get your wild animal fix!
Founded in 1924, the Association of Zoos and Aquariums is a nonprofit organization dedicated to the advancement of zoos and aquariums in the areas of conservation, education, science, and recreation. Look for the AZA logo whenever you visit a zoo or aquarium as your assurance that you are supporting a facility dedicated to providing excellent care for animals, a great experience for you, and a better future for all living things. The AZA is a leader in global wildlife conservation, and your link to helping animals in their native habitats. To learn more visit http://www.aza.org.
# # #