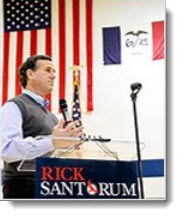 Boring doesn't make the news, if you want to be talked about, do something different
Portsmouth, NH (PRWEB) January 05, 2012
Just a few short weeks ago, Rick Santorum was just a little-known presidential hopeful with a better chance of winning American Idol than becoming President of the United States. However, marketing expert, Charles Gaudet, reveals how Rick's uncharacteristic dress code created a marketing edge that has the other candidates scrambling to catch up.
"We live in a plain vanilla world where people and businesses look similar to one another," says Gaudet, "but people want to be entertained and they want to talk about something different. Boring doesn't make the news, if you want to be talked about, do something different."
Gaudet is referring to Rick Santorum's sweater vest. While the other Presidential Candidates are fancying the traditional high-priced suits, Rick shows off his trademarked short sleeve sweater vest. This fashion statement is now the beneficiary of millions of dollars in free publicity between a Twitter Feed (@FearRicksVest), website (FearRicksVest.com) as well as cartoons, videos, clothing and jokes quoting Rick by saying "Sleeves slow me down!"
Gaudet says that there are lessons in Rick's accelerated road to recognition that every Entrepreneur should consider for creating a better marketing advantage for your business. They are:

You don't have to be boring and traditional. Look at what your competition is doing and dare to be different.
People respond positively when they're entertained and amused.
Give your customers something to talk about.
There are countless examples of entrepreneurs throughout history that used nontraditional marketing (such as Jordan's Furniture and their Mardi Gras shopping experience) that were rewarded with invaluable marketing, PR and the customers that loved it.
"People don't stop you on the street to say 'What's old and boring with you?', they ask 'what's new?'" Gaudet continues, "so if they're asking for something new, give it to them and they'll pay attention."
For more information on how to get an edge and dominate your market, please visit http://www.PredictableProfits.com
ABOUT CHARLES GAUDET: Gaudet is widely regarded as a marketing expert for consistently delivering windfalls of profits to his clients by unveiling opportunities that have been previously under-utilized or have gone unnoticed. Gaudet has traveled much of the world studying from business, political and social leaders studying entrepreneurial, marketing and business excellence. He is the founder of PredictableProfits.com and the author of the widely popular blog at http://www.PredictableProfits.com/blog.
ABOUT PREDICTABLE PROFITS: Predictable Profits is a leading small business marketing company and a division of Managed Marketing, LLC. The company specializes in finding overlooked marketing opportunities commonly found in most small-to-medium sized businesses and creating actionable marketing strategies for increasing a company's profits. You can read more about Predictable Profits by visiting the company's website at http://www.PredictableProfits.com.
###