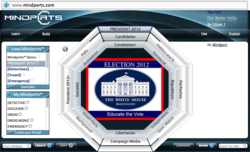 We must acknowledge that managing our own government is too important to leave to sound bites and superficial debates alone.
San Francisco, CA (PRWEB) January 05, 2012
Mindports.com today announced a new voter education technology supporting awareness, transparency, and accountability in government. Mindports President 2012, built upon an advanced next generation interface, will serve to provide comprehensive information on the candidates and the election process. Voters will be able to quickly and easily compare historical voting records of the candidates to their current statements and positions, review monetary ties that may indicate influence, or later hold candidates accountable to the voter mandates that elected them.
Marcel Hovsepian, Director of Web Development, stated: "We must acknowledge that managing our own government is too important to leave to sound bites and superficial debates alone. Mindports President 2012 allows voters to educate themselves about the candidates in a fraction of the time."
Because the average voter will spend only minutes preparing for their election decision, Mindports President 2012 puts dozens of valuable resources only two or three touches away on the Web, and on the mobile Web, through the free Mindports™ Library on Android. The Mindports™ next generation interface and portal accesses daily content within two to four seconds without search by eliminating scanning, scrolling, page turning, sizing, and waiting, while anticipating user needs.
Mindports.com seeks to make the next presidential election the most educated vote in history. Mindports President 2012 is politically neutral, allowing rapid discovery, education, access, and customization. Candidates have been asked to add their positions to Mindports™ President 2012.
Mindports.com is requesting that candidate websites and voter information websites support this effort by using the "Share Link from Your Website" button to create links on their home page to Mindports President 2012. Citizens and government employees are encouraged to use Mindports™ technology, available for free on Mindports.com, to create their own Mindports in the public interest.
Mindports.com, Our Better Webs, is a Web portal platform allowing users to create their own Internet portals without programming, for faster, easier, and more intelligent Web and mobile Web navigation, and enabling corporations to build faster and more powerful portals for knowledge capture, field sales, and information equity growth.
###