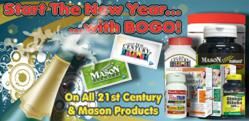 Family run online nutritional vitamin, supplement, and weight training nutrishional product retailer Vitafoundation reduces already low regular prices with rotating monthly specials and Bogo offers.
Miami, FLA (PRWEB) January 06, 2012
Miami based vitamin-nutritional retailer, Vitafoundation, announces monthly specials, starting in January 2012 to start the New Year with an assortment of 21st Century Vitamin's quality products, along with Mason brand products, all at buy one get one prices that will edge out its competition.
Vitafoundation.com assists online consumers in making correct decisions about their overall well being, and which products best suit their needs.
If online shopping is not for you, or you simply can not find the products your looking for, the kind and courteous staff at Vitafoundation would be more then happy to assist you on the phone, and to provide a toll free line for the most cost efficient customer service for their shoppers.
On top of their competitive pricing and reliable shipping - Vitafoundation has chosen UPS as its preferred carrier - the company provides a members loyalty program and offers a VitaREWARDS points system.
For more information on the company visit the web site at http://www.vitafoundation.com.
###