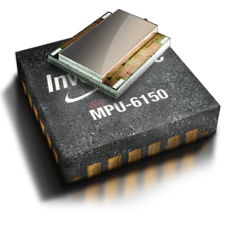 Sunnyvale, California (PRWEB) January 05, 2012
InvenSense, Inc. (NYSE: INVN), the leading provider of MotionTracking™ devices for consumer electronics, today announced availability of the MPU-6150, the world first and only single chip 6-axis MotionTracking device designed for the low power, low cost, and high performance requirements of smart-TV, set top box, and gaming console remote control applications. The MPU-6150 incorporates InvenSense's MotionFusion™ and run-time calibration firmware that enables manufacturers to eliminate the costly and complex selection, qualification, and system level integration of discrete devices in motion-based remote controls, and guarantees that sensor fusion algorithms and calibration procedures deliver optimal performance for consumers.
Motion interface is rapidly becoming a key function in many consumer electronics devices including smartphones, tablets, gaming consoles, and smart-TVs as it provides an intuitive way for consumers to interact with electronic devices by tracking motion in free space and delivering these motions as input commands. Traditional multi-button-based remote controls are difficult to use when browsing and selecting content on a smart-TV, while touchpads and keyboards can be expensive and difficult to maintain and use in the living room environment. The MPU-6150 with MotionFusion and run-time calibration firmware enables consumer electronics manufacturers to commercialize cost effective motion-based remote controls that enable a more intuitive motion interface for smart-TVs, set top boxes, and gaming platforms.
"MPU-6150 is the first single chip 6-axis MotionTracking device for remote control applications that also addresses some of the industry challenges for factory and run-time calibration," said Steve Nasiri, CEO and Founder of InvenSense. "We believe that market demand for motion interface remote controls is already here, and that MPU-6150 solves the key obstacle for faster adoption which has been availability of a low power, low cost MotionTracking device that can be easily integrated by OEMs into their remote control products."
Accurately tracking complex user motions for remote control applications requires a 3-axis gyroscope, a 3-axis accelerometer, fusing the sensor outputs into a single and accurate data stream for use as input commands by the TV or gaming console, and ongoing run-time calibration to ensure an optimal user experience. The single chip 6-axis MPU-6150 combines an accelerometer and gyroscope into a very small 4x4x0.9 mm QFN package, with an onboard Digital Motion Processor (DMP™) that handles MotionFusion and ongoing run-time calibration. By offloading sensor fusion and run-time calibration to the DMP, remote control manufacturers can design in less expensive microcontrollers, while also extending remote control battery life as less sensor data is transmitted for external processing on the TV or gaming platform SoC. Additionally, as calibration and sensor fusion are performed on MPU-6150 based remote controls, TV and gaming console SoCs no longer need to spend valuable CPU bandwidth and associated power consumption processing the motion sensor data for use by software applications.
The MPU-6150 is offered in a 4x4x0.9mm QFN package for easy integration into space-constrained remote control designs. Featuring precise tracking of both slow motion activity such as menu selection and fast motion activity such as gaming control, MPU-6150 supports full-scale range of ±250dps, ±500dps, ±1000dps and ±2000dps for angular rate sensing and full-scale range of ±2g, ±4g, ±8g, and ±16g for linear acceleration sensing. The MPU-6150 provides low output noise of only 0.2 dps-rms, high resolution 16-bit analog-to-digital converters (ADCs), programmable digital filters, the industry's lowest current consumption of only 3.9mA, an embedded temperature sensor, and both I2C and SPI interface output options. The MPU-6150 is now sampling to selected customers with mass production in Q1 2012. For more information please visit our website at http://www.invensense.com or contact InvenSense Sales at sales(at)invensense(dot)com.
About InvenSense
InvenSense (NYSE: INVN) is the leading provider of MotionTracking™ devices for the consumer electronics market. The company's patented and patent-pending MotionFusion™ technology and Nasiri-Fabrication™ platform address the emerging needs of many mass-market consumer applications including smart phones, tablets, gaming devices, optical image stabilization, and remote controls for smart TVs, that require improved performance, enhanced features, and new and more intuitive motion and gesture-based motion-interface solutions. InvenSense is headquartered in Sunnyvale, California. More information can be found at http://www.invensense.com.
© 2012 InvenSense, Inc. All rights reserved. InvenSense, MotionTracking, MotionProcessing, MotionProcessor, Nasiri-Fabrication, MotionFusion, MotionApps, DMP, and the InvenSense logo are trademarks of InvenSense, Inc. Other company and product names may be trademarks of the respective companies with which they are associated.
# # #