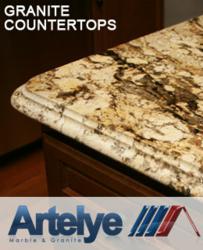 We try to make it as easy as possible for our clients to obtain the elite look and explore the endless options when it comes to their unique surfaces
Beltsville, Maryland (PRWEB) January 04, 2012
My Home Granite has finally agreed to launch this year's winter granite countertops sale early. While it was a fun, exciting and successful end of the year for My Home Granite in 2011, they are ready to start bonding with their customers once more by providing them with what they want and love most - beautiful kitchen countertops.
Most home owners know that their homes – although has lost market value – has become more significant for their families, and now become more of a "home" so to speak. People are spending more time coming up with projects that will turn their home in a more comfortable and beautiful place to live. Renovating bathrooms, powder rooms, kitchens, and basements are just some of the new projects that are taking home owners by storm.
My Home Granite wants to make this process easy for home owners by providing them with new and fresh ideas for projects, and also by making their granite countertops surfaces much more affordable.
Granite countertops in Maryland are the number one choice for home owners when it comes to replacing their existing surfaces to something more elegant, vibrant and exclusive at the most affordable prices in the area. "We try to make it as easy as possible for our clients to obtain the elite look and explore the endless options when it comes to their unique surfaces" says sales manager at my home granite – Joe.
My Home Granite is a leading granite countertop dealer in Maryland and they have been serving the Washington DC metropolitan areas for the past 15 years. Excellence in quality and service has been their number one focus since their inception back in 1997 and has been the driving force behind the team.
###