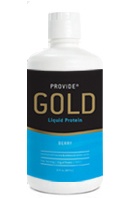 Attention to health is life's greatest hindrance.
Plato
American Fork, UT (PRWEB) January 05, 2012
Natural Medical Supply, a supplement store that provides premium quality vitamins and supplements in all areas of natural medicine, has introduced a liquid protein supplement to its inventory. The new protein supplement is in liquid form to improve absorption and eliminate the hassle of preparing powders and shakes.
Provide Gold™ Liquid Protein is a berry flavored protein shot. It is low calorie and sugar free, with only 60 calories per 1 ounce serving. It differs from whey protein as it uses fruit enzymes to break down the proteins into a ready to absorb protein.
"The liquid protein shot is ideal for anyone looking for a no-mess supplement. It's convenient and easy to take with you on the go," says Jason Mac Media Relations Manager of Natural Medical Supply. "The quick absorption makes it great for athletes looking to quickly restore protein content or individuals looking for a supplement to a weight loss plan."
Each Provide Gold Liquid Protein shot contains 15 grams of enzyme hydrolyzed collagen protein. Hydrolyzed collagen is a good source to supplement weight loss plans and restore protein content as it has many of the essential amino acids. Proteins and amino acids are recognized as being the most satiating macronutrients.
Individuals may want to take liquid protein for different purposes. Many use it to get extra protein while following their weight loss plans. Some use protein supplements to ensure they are getting enough protein into their daily diets. Protein deficiencies can cause problems such as muscle deterioration, thinning hair, loss of healthy tissues, to name a few.
"If you're looking for a great tasting, convenient, no-mess protein supplement, Provide Gold™ Liquid Protein could be your answer," said Jason. "Use it after a work out to restore protein and amino acids or as a daily supplement to sustain protein in one's daily diet. Receiving the proper amounts of protein are possibly the best step to defend against protein deficiencies."
The recommended use is one liquid shot (1oz) immediately following a work out or one to two shots as a daily supplement. Natural Medical Supply sells this supplement online at their supplement store.
###
About Natural Medical Supply
Natural Medical Supply is an herbal vitamin and dietary supplement resell company. Our purpose is to provide optimum products for top tier quality of life through our proprietary products. We are fast becoming the leaders and pioneers of nutrition in the U.S. We have established an excellent reputation and loyal list of clients.