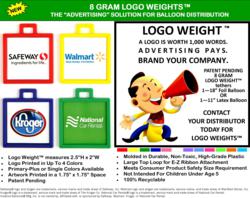 Carmel, California (PRWEB) January 06, 2012
Today's buzz is the brand, whether it's a genetically-modified veggie like the Broccolini™ (Tm - Mann Packing Co.) or a reality-induced commodity like Kardashian. Somehow, everyone knows the names and what each represents. How does this happen?
"In the advertising world, we know the phenomenon as 'branding'. It is the stamp of recognition. It's visible proof of a successful marketing campaign, and the direct result of an ad budget well spent," states Suzy Goodman-Pollack, Executive Vice President and Chief Product Designer of Creative Balloons Mfg. Inc. (Carmel, California).
How does a Helium Filled Balloon (latex or foil) play a role in branding? Follow a few of the outstanding fast food icons and soon realize the power of a bouncing billboard. Fast food chains know how to spread a message, in their print ads, television commercials, and helium balloon promotions. Advertising pays.
What's the secret to spreading a message on a printed helium balloon, and insuring that advertising doesn't fly away? "Problem presented, problem solved," advises Jules Pollack, President of Creative Balloons. "We recently introduced our new, patent-pending LogoWeight™, which not only tethers helium filled advertising balloons, but it adds additional branding to every promotion."
The LogoWeight™ is available in a range of vibrant colors: Primary-Plus Assortment (Red, Yellow, Blue, Green), Pastel Assortment (Light Blue, Pink, Lavender, White), Trendy Neon Assortment (Hot Pink, Lime Green, Bright Orange, Turquoise Blue). Companies can order the LogoWeight™ in single colors, as well, to tie-in with their established logos.
Creative Balloons Mfg. Inc. is the reputable source for marketing campaign needs, providing custom printed helium balloons, inflators, sealing devices, and LogoWeights. Products can be seen at http://www.creativeballoonsmfg.com
Since 1973, Creative Balloons Mfg. Inc. has been an award-winning, leading worldwide manufacturer and wholesaler of helium balloons, accessories, and party goods. Creative Balloons' top quality products meet U.S. Consumer Product and CE safety standards.
###