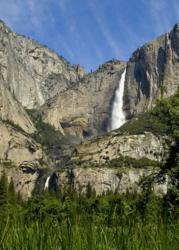 When you're on a budget every bit of savings helps, and gives you more money for additional fun
Oakhurst, CA (PRWEB) January 04, 2012
With the new year just a few days old, people may be looking at the coming months and planning their trips. The National Park Service just announced which dates entry to Yosemite National Park will be free, helping to make that planning a bit simpler.
Each year, the National Park Service offers free entry in to Yosemite and other national parks to help spur visitation and celebrate special dates. This year, there will be five chances to gain entrance to Yosemite free of cost.
The first will honor of Martin Luther King Jr.'s birthday by waiving admission to Yosemite National Park, and other national parks throughout the US, on Jan. 14 – 16. Admission in to Yosemite is generally $20.
Other free dates include April 21-29 in celebration of National Park Week, June 9 for Get Outdoors Day, and Sept. 29 in honor of National Public Lands Day and finally Nov. 10-12 in celebration of Veteran's Day.
"These free days are a great time to explore Yosemite, and the surrounding gateway region," said Jarrod Lyman with the Yosemite Sierra Visitors Bureau. "The entry fee isn't much, but when you're on a budget every bit of savings helps, and gives you more money for additional fun," he said.
To start planning your Yosemite vacation, book a room or learn more about what there is to see and do in and around Yosemite, visit http://www.YosemiteThisYear.com.
Jarrod Lyman
Director of Media
Yosemite Sierra Visitors Bureau
(559) 683-4636
# # #