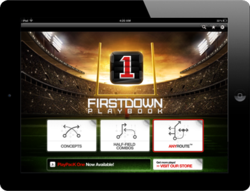 "FirstDown PlayBook efficiently and effectively allows users to create, organize and study plays; making traditional playbooks obsolete." ~Derek Schouman former NFL tight end for the Buffalo Bills and St. Louis Rams
Austin, Texas (PRWEB) January 06, 2012
Today, 1st Down Technologies launched the FirstDown PlayBook™ app for iPads providing instant and intelligent access to a collection of offensive plays proven in the ranks of the NFL and NCAA. Targeted for coaches of all levels, from youth league to professional, FirstDown PlayBook solves a time-consuming problem of sorting through old playbooks, binders and files of plays looking for offensive solutions.
"It was my goal to organize 28 years of plays I've drawn or collected, but it wasn't technically practical until now," said company founder Coach Charlie Coiner, whose resume includes the Buffalo Bills, Chicago Bears and the University of North Carolina. "With the help of some brilliant digital designers and developers from Clarus Agency, we've created an amazingly simple and powerful tool that allows any coach to instantly find the plays they need, tag them, create favorites and share them with their teams. It's like iTunes for coaches."
Coaches and players alike can access over 2,600 drop back pass plays at the initial launch with additional formations and plays scheduled for release later in 2012. The interactive tool allows teams to browse through thousands of plays, tag and save favorite plays, create customized playbooks and share plays via email. Convinced of its extreme value to the sport, Derek Schouman former NFL tight end for the Buffalo Bills and St. Louis Rams says, "FirstDown PlayBook efficiently and effectively allows users to create, organize and study plays; making traditional playbooks obsolete." The incomparable feature of this app is AnyRoute™ in which a coach can choose a formation, pick a receiver, pick the route and have instant access to play options.
1st Down Technologies allows football enthusiasts a free iPad download of the app with over 50 plays. "We are giving this away for free because we want any and all football fans to experience this app; we know no one has seen football like this before," Coiner says. Fans can purchase the full product in the iTunes app store to access over 2,600 drop back pass plays ($19.95). The app is scheduled to launch for iPhones as well within days.
The FirstDown PlayBook app will make its debut at the American Football Coaches Association (AFCA) conference in San Antonio, Texas on January 8-11, 2012.
ABOUT 1ST DOWN TECHNOLOGIES
1st Down Technologies is a sports software company based out of Austin, Texas. The mission is to help coaches at all levels spend more time developing football players and less time consumed with designing plays. The vision is to provide an application that organizes passing game ideas in a manner that saves coaches their most valuable commodity - time.
###