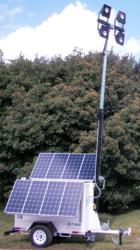 Apex, NC (PRWEB) January 05, 2012
Dan Robertson, a partner for Progress Solar Solutions, commented, "We are happy to release this Progress Solar Light Tower Video to expand the awareness among industry professionals that routinely use outdoor portable lighting. It is especially for those professionals interested in learning more about this proven, and rapidly growing technology that delivers a practical, cost-effective, environmentally-friendly solution for any temporary outdoor night lighting needs."
The Progress SolarTM Light Tower series is made in the U.S. and operates independent of diesel, gas or the electric grid eliminating the use of fossil fuels or generation of carbon emissions. The Solar Light Tower is a rugged, mobile light system that provides high-intensity, bright white lighting on-demand, where and when you need it. Progress Solar Light Towers are available throughout the U.S. by major equipment rental companies and dealers.
About Progress Solar SolutionsTM LLC
Progress Solar Solutions, LLC is located in Apex, NC and specializes in providing high-performance, eco-friendly and cost-effective solar and lighting solutions for commercial, industrial, government and institutional applications. For more information on Progress Solar Solutions, LLC or the Solar Light Tower, call (919) 363-3738, x405 or visit http://www.ProgressSolarSolutions.com.
###