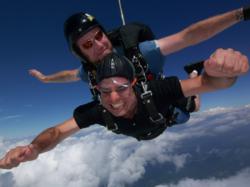 Someday Has to Be Today
Pleasant Valley, NY (PRWEB) January 05, 2012
Free-Falling to End Bullying in 2012, a new YouTube video created by author and autism advocate Jesse A. Saperstein, seeks to end abuse in the most daring way imaginable. Hauntingly powerful, it features the vocal talents of Taylor Swift.
Movie stars and even President Barack Obama have opened their hearts about childhood anguish as well as our need to halt the epidemic of suicides destroying too many lives. Statistically, a child is 98,000 times safer skydiving from 14,000 feet above the face of the earth than going to school.
This eye-opening statistic represents the mission of Jesse A. Saperstein, who has made a commitment to fight bullying in the most bizarre and exciting way possible. Jesse's crusade for the New Year is captured in his YouTube video, "Free-Falling to End Bullying in 2012," and can be accessed by visiting http://www.youtube.com/watch?v=LmLuWBha8Qw.
"Free-Falling to End Bullying in 2012" is the first video to feature an extreme sport and children with autism opening up about their painful experiences. Saperstein suffers from Asperger's syndrome (a mild form of autism) and is the author of Atypical: Life with Asperger's in 20 1/3 Chapters. Atypical was published by Penguin Group in April 2010 and has earned praise from high-profile individuals such as Sigourney Weaver and Dr. Temple Grandin. His previous anti-bullying video, "Someday Has to Be Today," is also a much-viewed staple on YouTube.
On Tuesday, August 9th, 2011, Saperstein performed his first skydiving jump and rallied the entire community in an effort to show what can happen when people with challenges have the right opportunities and enough people to believe in their talents. Dr. Grandin, the subject of an HBO Golden Globe-winning movie starring Claire Danes, made a special appearance in his new video that also features the musical talents of Taylor Swift and the 1980s band, Boy Meets Girl. Saperstein's anti-bullying project was sponsored with a grant from Anderson Foundation for Autism in association with Anderson Center for Autism, which is located in Staatsburg, NY.
For more information, please visit http://www.jessesaperstein.com/.
Media Contact: Victor Gulotta, Gulotta Communications, Inc., 617-630-9286, http://www.booktours.com, victor(at)booktours(dot)com
###