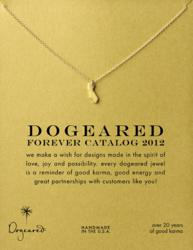 Handcrafted and Made In The USA are finally being recognized as important by consumers. But they have been the heart and soul of Dogeared for over 20 years
Los Angeles, CA (PRWEB) January 05, 2012
Dogeared will showcase Spring 2012 jewelry designs and catalogs at New York ENK Accessorie Circuit Show, LA Market, New York International Gift Fair, and Project Las Vegas. Innovative new designs stay true to Dogeared's cool California aesthetic, and jewels continue to be 100% handmade in the USA.
Dogeared Forever showcases the latest designs along with bestselling classics and new additions to the brand's famous line of handmade original charms. The iconic Karma, Healing Gems and Make A Wish collections continue to evolve, and new groups include Love for Valentine's Day, Mom for Mother's Day and more.
All Dogeared charms are hand-cast in Los Angeles using recycled sterling silver, and gold ones are individually hand-dipped. Along with their signature style, artisanal quality and craftsmanship have become synonymous with the Dogeared brand.
"Handcrafted and Made In The USA are finally being recognized as important by consumers. But they have been the heart and soul of Dogeared for over 20 years," comments owner and designer Marcia Maizel-Clarke.
Dogeared Jewel Box is inspired by treasures from unlikely places; found in nature, collected in curio cabinets or even discovered in the designers' own jewelry boxes. These real objects have been hand-cast in metal to create unique new design elements, and crafted into jewels that embody the uncomplicated, organic look and feel Dogeared is known for.
Dogeared Bracelet Bar offers a colorful, layer-worthy extravaganza that captures the playful energy of spring. Using metallic and natural leathers, hand-dyed silks, a rainbow of gemstones and earthy wood beads, there are literally hundreds of options ready to be infused with one's own personal style.
Dogeared continues to set trends and offer an incredibly versatile product line, and the Spring 2012 catalogs and collections prove it. At the same time, they continue their 20-year legacy of practicing business mindfully. "Our goal is to infuse positive energy and love into each jewel," explains Marcia Maizel-Clarke. "That's why we create them individually, by hand. It's why we give back to nonprofit groups year round, why we use Earth friendly materials wherever possible, and why we remain committed to being handmade in the USA."
Retail prices range from approximately $20 to $110. The wholesale catalogs are viewable online at http://www.dogearedwholesale.com.
Winter Trade Show Schedule
LA Market
Kristi Harris Sales
Cooper Design Building
860 South Los Angeles
Suite #640
January 16-19, 2012
New York ENK Accessorie Circuit Show
The Show Piers
New York City
Pier 94 Booth 3239
January 8 - 10, 2012
New York International Gift Fair
Jacob Javits Convention Center
11th Avenue @ 37th Street
Booth 8101
January 29 - Feb 2, 2012
Project Las Vegas
The Mandalay Bay Convention Center
Booth #TBD
February 13 - 15, 2012
Dogeared Jewels & Gifts
Designer Marcia Maizel-Clarke founded Dogeared Jewels & Gifts 20 years ago in Southern California. Originating word jewelry, she began creating beautiful pieces with the purpose of putting positive, peaceful, and loving energy into the world. This energy has always included being kind to the planet, handcrafting all the jewels and gifts in California, and working with non-profit organizations sharing a vision of a better world. Dogeared's unique, custom-cast jewels are regularly featured in fashion, lifestyle, and celebrity publications, in films and on television shows. Trendsetting retailers around the world, including Nordstrom, Neiman Marcus Cusp, Bloomingdale's, Fred Segal, and ABC Home, all carry Dogeared. Please visit http://www.dogeared.com for Dogeared's online flagship store. For wholesale information, visit http://www.dogearedwholesale.com.
###