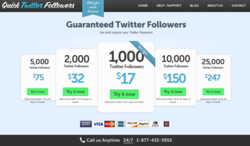 The No. 1 Twitter Followers Supplier
Cebu, CEB (PRWEB) January 06, 2012
Quick Twitter Followers is an important division of Buy Real Marketing, a world provider for Web 2.0 Business Applications on the web. Like its sister company, Buy Real Twitter Followers, this website has already proven its high quality in its service through the countless numbers of users it has served under its wing since 2010. For the New Year, the company has decided that it is time for a reconstruction of the website for further improvement and progress.
Diana Quartin, Buy Real Marketing's Lead Designer and UI/UX Specialist mentions "We decided that it was time the best time for the company to make this big step. We knew there were little things to troubleshoot in 2011, but what better time to have a fresh start than in 2012? This year, you can expect only the best from Quick Twitter Followers. We've streamlined our functionality and design for our all sites. This will help enforce our current position as the no. 1 Twitter Followers supplier on the web for a long time."
The number one position, that the company currently holds is due to the honesty and respect that the company provides its customers. Quick Twitter Followers offers both real and non-real Twitter Followers to suit the needs of each Twitter marketing campaign. Whether the campaign is to provide real engagement to the brand or to offer a large following to bring online and social credibility to the eyes of its peers, either will be useful for marketing a product. Delivery time is also a crucial point which the company's main unique selling point. Having the ability to quickly provide its clients a steady stream of orders is one of the main reasons why clients remain loyal to the company.
"Aside from the look and feel of the website, we also wanted to apply all the things we learned from when we began the service. Website developments such as simplicity and functionality were taken in consideration for the reconstruction. This was to bring a fresh experience for our returning and potential clients in the future" adds Business Development – Managing Director, Jonathan Kennedy.
Quick Twitter Followers' change involves its functionality that provides clients a fuss-free order method that requires no more than just the username. No password is required for orders of non-real Twitter Followers. However, for real Twitter Followers, management will have no choice but to require it in order to apply the "Follow First Method". Follow First Method means to manually follow the individuals or groups that would be interested and later on, to be 'unfollowed' to gain the large following.
View the newly revamped Quick Twitter Followers website at http://www.quicktwitterfollowers.com for more information on their updates and latest promos.
About
Buy Real Marketing is wholly owned by Clicking Labs, Inc. Clicking Labs is a well established internet marketing company founded in 2010 by Jean-Patrick Bisson, Diana Quartin and Jonathan Kennedy. The company specializes in driving search marketing and social media traffic, social web app development and conversion optimization. Each product or service specifically helps small/medium website owners increase online visibility and improve online sales.
###