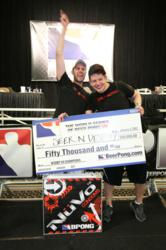 This year's event was notable thanks to participation from more countries than ever before, as well as the debut of the NBPL app and ranking system
Las Vegas, NV (PRWEB) January 05, 2012
The National Beer Pong League (NBPL) and http://www.BeerPong.com are pleased to announce that Matthew "White Boy" White and Ross "The Boss" Hampton from Edwardsville, Ill., playing under team name "Seek N Destroy," have earned the title of The Seventh Annual World Series of Beer Pong® (WSOBP VII) champions. A $50,000 grand prize check and diamond-studded dog tags, designed by PicturesonGold.com, were presented to the winners by the NBPL founders during Wednesday night's finale in Las Vegas. The winners also took home a custom beer pong table and year's supply of condoms from event sponsor NüVo Condoms. The World Series of Beer Pong is the largest, longest-running beer pong tournament in the world.
Internationally acclaimed announcer Bruce Buffer introduced the best-of-three finale featuring the undefeated "Seek N Destroy" versus Georgia Beer Pong's team "Boozingear.com Presents 'Who is Bobby Williams,'" which had a 17-3 record going into the finale. During the close battle, team "Boozin gear" took the first game and "Seek N Destroy" the second as the crowd chanted "MVP! MVP!" at Hampton for his accuracy throughout the tournament. The event was decided by the final cup, which was sunk by Hampton to give "Seek N Destroy" the win. Dan Range, from St. Louis, Mo.-based "Standing Ovation," which won last year's event, congratulated the duo by giving them the last cup, the balls from the winning game and a BPONG™ Rack Kit.
Hampton, 23 years old, and White, 24, both recent grads of Southern Illinois University, are each $25,000 richer after making it through 22 games and some seriously tough competition. When asked what they plan to do with the winnings, White said he's "going to live the best life in the world." Hampton, who also won the Men's Single's Tournament, commented that "all that beer pong play finally amounted to something" and seemed to be in awe of having played against so many of the world's top beer pong players. A new international ranking of beer pong players is now available at http://www.beerpong.com/rankings/explanation.
"This year's event was notable thanks to participation from more countries than ever before, as well as the debut of the NBPL app and ranking system," said Duncan Carroll, WSOBP co-founder. "Thanks to new technologies, we're able to introduce more players and spectators to the exciting sport of beer pong. We look forward to the New Year as we roll out the National Beer Pong League bar program with high-tech league play and ranking system to bring the sport of beer pong to the masses."
This year's event drew 450 teams from 48 U.S. states and 14 countries, as well as more than a thousand spectators who received free samples from event sponsors NüVo Condoms and Twang Beer Salt. Some players were skilled winners of the more than 200 satellite qualifiers; others simply paid the entry fee to enjoy the fun, camaraderie and sportsmanship. All had a chance at the prize money with a guaranteed 12 games over two days and the chance to advance to the finals on day three. In addition to the main competition, several side events were held, including East vs. West, Men's and Women's Singles, Co-Ed, International and Random Draw tournaments, with prize money totaling $65,000.
The sport of beer pong is simple. Two teams stand at opposite ends on an 8-foot-long table, where ten 16-ounce cups, filled with roughly 4 ounces of beer or another liquid, are placed in a bowling-pin formation. Each team takes turns tossing beer pong balls (similar to table tennis balls) at their opponent's cup formation. If a ball goes into a cup, the cup is removed from the game. The first team to eliminate its entire opponent's cups wins.
At the World Series of Beer Pong sporting event, four of the ten cups are filled with water. Many of the 160 teams who advanced to the final day of WSOBP VII opted to drink water instead of beer. In an effort to go green, this year's event provided each player with his or her own BPONG® Basics Starter Kit of 22 personal cups and two balls for personal use, and re-use throughout the tournament. The WSOBP is the largest organized beer pong tournament in the nation. For more information, visit http://www.BeerPong.com.
# # #