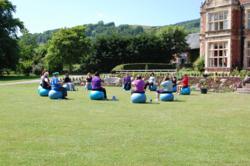 The UK's No.1 Holistic Boot Camp
(PRWEB UK) 7 January 2012
FitFarms the holistic boot camp train their guest to take an 80 - 20 approach over the festive season so clients have a healthier happier lifestyle in 2012.
FitFarms has many exciting developments and special offers coming up for the year ahead. They ran a great week for male and females in November and the course testimonials were exceptional. It was fully booked with both sexes looking to lose weight and increase their fitness levels. They will be running another 6 mixed boot camp courses in 2012 due to popular demand.
Budget FitFarms has been planned to run at lower prices at their original Devon venue. The quality of the course and the after care programme will be of the same high standard. They will try and add another 8 more guest on the weight loss retreat which will enable them to lower the prices. This will be advertised next month in brochures and on websites.
There will also be some extra additions in 2012 adding branded toiletries and robes to the rooms to make their guest stay more comfortable.
Since 2006 when FitFarms opened their doors to the general public they have put over 5,000 clients through their UK weight loss boot camp experience. The average weight loss is 8lbs but they consistently get weight losses of over one stone. In January 2011 a Deilia broke the record with an amazing weight loss of 19 pounds. When Deilia was taking her video diary she broke down in tears of joy not being able to really understand what the boot camp had achieved for her. The video diary will soon be produced by Gillie the weight loss retreat Director and put online for everyone to see.
FitFarms is not just about immediate weight loss it is more directed to long term health and fitness success. The holistic boot camp has a philosophy which is called "sustainable health and weight loss".
Video diaries have recently played a major part in the FitFarms weight loss camp experience. When guest finish their week they are very enthusiastic and keen to talk on camera. FitFarms never push this and it is always the guest that wish to stand up and create their own video about their amazing boot camp experience.
FitFarms will be looking forward to another healthy business year which is created by their attention to details and caring approach to their guest.
# # #