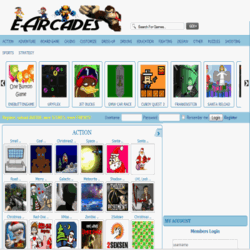 eArcades.com Plans to Ramp up Free Online Games Database after Successful Debut Week
(PRWEB) January 05, 2012
To satisfy the never-ending craze of players over free online games, Internet Marketing Services, owner of eArcades.com, confirmed that it will bolster its database and present more exciting games to players all over the globe. The company said that gamers can expect a wider variety of choices that range from fast-paced and explosive to educational and trivia games.
Currently, eArcades.com features 5,000 free online games from 15 categories which include shooting, driving, casino, strategy, dating, and educational. With a consistently growing demand, gamers can look forward to seeing new items on the "recent games" section of the site more often. eArcades.com has also recently featured its games in other languages in order to accommodate more players.
Internet Marketing Services explained how their site works. Gamers simply have to go to their website, click on the game they are interested in, watch a very brief reminder while their game loads, and then they are set to play. There is absolutely no fee or fine prints to membership. The company clarified that their free online games are indeed free and it will remain just that.
Players can enjoy as many games as they like without shedding a buck. All that they will need is a web browser that supports flash game and plenty of time to have fun. Gamers can easily share the game they enjoyed most to family and friends through Facebook and Twitter. Moreover, they have the right to a spot at each game's hall of fame if they play well enough.
Browser-based games are seeing increase in enthusiasm partly because of the high prices of PC games. Some avid games find it difficult to afford the latest releases of PC games so they are turning to free sources.
While owners of eArcades.com are aware that the online gaming industry is very competitive, they say it is a challenge that they welcome and they are excited with how they will perform. They are aware of the competition, the company announced, and that is what encourages them to provide premium services and the best free online games to players all over the world.
###