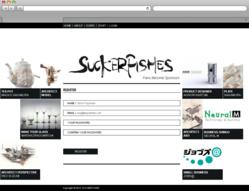 "The most important things are not things"
London, the UK (PRWEB UK) 16 January 2012
In order to make it happen, TWOPLANTON LTD. is about to launch a new Peer-to-Peer sponsoring platform for creatives and entrepreneurs called "Suckerfishes". Suckerfishes is a easily installable JavaScript plug-in on any websites, and links people who have an interesting idea with a group of fans who want to sponsor them. Do you fancy an early adopter for that? If so, please contact me on me(at)twoplanton(dot)net for a request.
Suckerfishes is not a normal crowdfunding service only assisting with finances but it also helps build communication. Suckerfishes is a new crowd "sponsoring" platform to connect people who have an interesting idea or vision with fans who want to sponsor them. Everyone has ideas. However, interesting ideas sometimes do not make business sense, even if people love them. Don't worry. Suckerfishes is a platform to be sponsored by fans; therefore, the more interesting the idea you have, the more fans will love you. Don't follow the normal way of the business world, just do it!
Furthermore, as a benefit for sponsors, Suckerfishes is a platform where they can easily support their favourites as fans and get paid-publicity at a competitive price. Suckerfishes leaves you satisfied as fans and facilitates the promotion of your interesting project in the future also at a competitive price. Sponsor each other and make your interesting ideas happen together. There is no relationship between sponsors and those sponsored by them but between sponsors themselves.
Specifically speaking, how does it work? Basically, users will sign up to Suckerfishes to get a special plug-in on their own websites. That's all you have to do before you promote your idea. Otherwise you can promote how interesting your idea would be or how it needs to develop, etc. In addition, there are 3 main features that Suckerfishes provides users with.
01-Peer to Peer Sponsoring System
Crowdfunding is becoming an increasingly popular modern technology for entrepreneurs and creatives as an alternative fundraising option to banks, investors, or business angels. None of them, however, supports people themselves but purely projects. Suckerfishes is a platform for users to be sponsored at any stage of their project and will let users maintain long relationships with fans as sponsors as opposed to other crowdfunding services, which only facilitate support for the early stages of projects and initial costs with their "if funded, bye-bye" attitude. No, Suckerfishes allows users to continue communicating as fans and sponsors at the same time.
02-Sharing
Activists often send out newsletters to sponsors in order to keep them up to date with the progress and success of their projects or to ask for assistance. For example, activists may need some advice on how to approach uncertain points in the project or assistance from sponsors in creating a logo for their business (the crowd-sourcing way). All sponsors are welcome to join and only sponsors have the right to commit to these projects.
03-Networking
In terms of paid-for publicity, unlike any other crowdfunding services, Suckerfishes cares about how sponsors are shown on the site. Once a project is completed and receives some publicity, all its sponsors are also named as sponsors. This increasing publicity can boost other projects the sponsors may wish to launch. Get sponsored by each other and make your interesting ideas happen together. There is no relationship between sponsors and those they sponsor but between sponsors themselves.
Do you fancy a project? TWOPLANTON LTD. are about to launch alpha and beta versions. Therefore, TWOPLANTON LTD. is now seeking our early-adopters for Suckerfishes. If you had any idea, projects, events, or business idea, it is time for you to take part in Suckerfishes then you will get full benefits from us. Please let us know that you are interested in Suckerfishes on me(at)twoplanton(dot)net or visit to Suckerfishes.