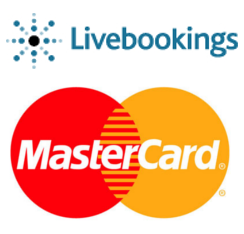 (PRWEB UK) 5 January 2012
Livebookings, the European leader in real-time reservations and online marketing services for restaurants, has partnered with MasterCard on its Priceless London programme. The partnership will see Livebookings' consumer facing website, Bookatable.com, support MasterCard by sourcing exclusive offers through its extensive database of London restaurants and making them bookable online through the Priceless London website.
The MasterCard Priceless Cities campaign is being launched around the world starting in London, New York and Toronto. Bookatable will be the standalone restaurant search engine for Priceless London as well as providing exclusive restaurant offers for MasterCard cardholders. In addition to these benefits, World Elite MasterCard cardholders will be eligible for exclusive offers to enjoy London's fine dining scene, sourced exclusively by Bookatable.
Robert Swerling, Chief Operating Officer, Livebookings said: "Priceless London helps people unlock the very best of what London has to offer. With the fantastic relationships we have with some of the industry's best restaurants, we're perfectly placed to add value to this exciting campaign by developing exclusive offers and making it easy for people to book online and enjoy dining out in London."
Paul Trueman, Head of Marketing for MasterCard in the UK & Ireland, said: "London is synonymous with both fine dining and gastronomic innovation and its restaurants remain a key attraction for Londoners and visitors from elsewhere in the UK and abroad. To enhance the experience even more for MasterCard cardholders, we needed a partner with unparalleled restaurant relationships to help us formulate unique and exclusive deals for Priceless London, while also providing booking capability for our cardholders. Livebookings and Bookatable fitted the bill perfectly."
For more details, please visit http://www.pricelesslondon.co.uk
About Livebookings:
Livebookings makes restaurants and diners click. We operate the world's only global, web-based restaurant reservations and marketing service, delivering over one million diners every month to over 9,000 restaurants including Gordon Ramsay Holdings, Tantris, East, Grill and Aquavit. Our reservations tools enable restaurants to provide their diners with a free, easy-to-use online bookings service, to manage those reservations efficiently and to collect valuable customer data. Our marketing services ensure restaurants can run promotions and deals and execute online marketing campaigns to attract and retain their customers.
Our consumer restaurant reservations website, Bookatable.com, is Europe's fastest growing online restaurant booking website, operating in 9 different languages and across 19 countries. It supports our unparalleled network of 300 distribution partners, including lastminute.com, Salir.com, Ticketmaster and Eniro.se, to ensure we can spread news of deals far and wide and help our restaurant customers attract new business.
Headquartered in London, with offices across Europe and the USA and customers in 23 countries, Livebookings is the largest online reservations provider in Europe, focused on making restaurants more profitable and dining out more pleasurable.
About MasterCard:
MasterCard is a global payments and technology company. It operates the world's fastest payments processing network, connecting consumers, financial institutions, merchants, governments and businesses in more than 210 countries and territories. MasterCard's products and solutions make everyday commerce activities—such as shopping, travelling, running a business and managing finances - easier, more secure and more efficient for everyone. Learn more at mastercard.com or follow us on Twitter @mastercardnews
# # #