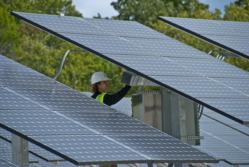 Burlington, VT (PRWEB) January 05, 2012
Draker Laboratories, the industry's leading independent provider of turnkey monitoring solutions for commercial and utility-scale solar photovoltaic (PV) projects, today announced several key highlights and major milestones reached in 2011.
"The past year has further demonstrated the increasing role of solar PV projects in helping the United States and the world meet growing demand for renewable energy generation," said Charles 'Chach' Curtis, CEO of Draker Labs. "We are proud to serve this dynamic market with our industry-leading monitoring and control solutions which allow commercial and utility-scale solar PV systems to achieve optimal performance and maximize financial returns for project developers."
Building on its exceptional performance in 2010, Draker again achieved record growth by more than tripling its revenue in 2011. In the past year, Draker has grown its installed base to over 500 monitored sites generating over 400MW of peak power. Draker now has customer sites coast to coast across North America from New Jersey to Florida to Ontario to California. Draker customer sites range in size from 50kW commercial rooftop solar systems to 30MW utility-scale PV power plants.
Major 2011 Draker achievements included the following:

2nd consecutive year of greater than 250% revenue growth
Extension of its monitoring solutions to include real-time monitoring and control of grid intertie switchgear for utility-scale PV power plants
Successful implementation of over 100MW of utility scale PV power plants monitoring and control systems ranging in size up to 30MW
Launch of the Solar Prospector™ Site Assessment System, a turnkey solar resource assessment solution for PV developers who need bankable energy projections to secure project financing
Expansion of staff to over 50 employees with key additions in executive management, direct sales, customer support, engineering and product development
Quadrupling of software development team to scale its database and application architectures to accelerate roll out of new services
Relocation to larger offices in both its Vermont and California locations
Strengthening its balance sheet with the addition of $3 million in follow-on equity financing and a new $1.5 million line facility
"2011 was a great year for solar PV project implementation and another record year for Draker," continued Mr. Curtis. "We at Draker are looking forward to an even better 2012, as we continue to serve our growing base of domestic and international customers."
About Draker
Draker Laboratories provides accurate and highly reliable monitoring solutions that help owners and operators of commercial and utility-scale PV systems maximize the efficiency and profitability of their solar assets. As a supplier of end-to-end monitoring solutions, Draker's turnkey systems combine proven field instrumentation with an intuitive web-based data management system and unmatched customer support. For more information, please visit http://www.drakerlabs.com
###