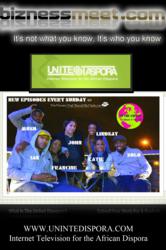 "Spotlighting Your Business" was created for the purpose of generating added exposure for the members of
Winston Salem, NC (PRWEB) January 05, 2012
Biznessmeet.com recently introduced feature on the site that will highlight a different business or service provider on a monthly basis. This feature, "Spotlighting Your Business" was created for the purpose of generating added exposure for the members of the Biznessmeet.com virtual community.
This month's feature business, United Diaspora is a free, ad-supported network that is committed to being the premier and comprehensive internet television website focused on the members and friends of the African Diaspora. One of the most asked questions is, "What is a Diaspora?" A Diaspora is the movement, migration, or scattering of a people away from an established or ancestral homeland. No matter where you may live on this Earth or how you got there, if you are of African descent or have an interest in the people of the African Diaspora, you are now a part of The United Diaspora.
United Diaspora, LLC is privately owned is headquartered in Charlotte, NC. The network was founded in 2009 and offers a selection of hit shows, original programming, news, and viewer produced short and feature films dedicated to the beautifully diverse cultures of the African Diaspora.
To learn more about the extensive products and service offered by United Diaspora, please visit http://www.biznessmeet.com .
SPOTLIGHTING YOUR BUSINESS" is one of many ways on Biznessmeet.com that businesses as well as individuals can network, advertise, refer, recruit, negotiate deals, barter, trade, sell or exchange with other individuals, organizations, service providers and customers but locally and nationally.
Biznessmeet.com is a website that brings together businesses and individuals to share ideas, discuss important topics and assist you in selling your products and services. This site satisfies all walks of life and directly targets individuals as well as businesses wanting to be movers and shakers and dominate their industry.
Biznessmeet is free to join at http://Biznessmeet.com. Build, master and expand connections with this cutting-edge social network today! Remember it's not always what you know, but who you know.
###