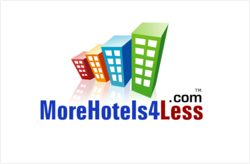 We're extremely honored to be recognized for the second year in a row by TopTenReviews.com and we will continue to improve our site and services.
(PRWEB) January 10, 2012
Travelers looking for cheap hotel rates and the best hotel deals available can visit MoreHotels4Less.com, recognized as one of the Best Hotel Booking Websites for the second straight year by TopTenReviews.com, a leading online product comparison and review site. MoreHotels4Less.com can save its customers up to 50% off published rates and they feature customer-friendly policies, such as no charge for changes or cancellations.
The site offers "Last Minute Hotel Deals" as well as a Low Price Guarantee, in which MoreHotels4Less.com will match another advertised rate for the same exact room or will cancel the reservation without penalty. In addition to last minute hotel deals, users will find that it is easy to compare different hotels and find ones with the preferred amenities. Focusing on the customer experience is what sets MoreHotels4Less.com apart.
"We're extremely honored to be recognized for the second year in a row by TopTenReviews.com and we will continue to improve our site and services. Travelers are becoming very web savvy and not only want to find cheap hotel prices online, they demand a site that delivers excellent content and delivers it fast. We focused on all of these points in 2011 by continuing to have very competitive hotel rates, adding richer content to our popular destinations section and dramatically increasing the website's performance and speed," states Martin Elek, Founder of MoreHotels4Less.com.
Customers will notice that MoreHotels4Less.com is a faster site that enhances the online booking experience. In most cases, MoreHotels4Less.com's home page will load in about 2 seconds, which makes it one of the fastest hotel sites available. A traveler's time is extremely important and waiting for a site to load its pages can be a frustrating experience. MoreHotels4Less.com recognized this fact and took positive action.
"Not only did we focus on the site's speed, we also added richer content to our popular destinations pages. We listened to customers and improved the relevancy and quality of locations to our spa, golf, B&B and family fun destinations. In 2012, we plan to add additional value to the site by providing multiple search capabilities at the beginning of their search that will help travelers select their hotel even faster," adds Elek.
Elek and the MoreHotels4Less.com staff work hard to keep the site as up to the minute as possible so that travelers have the best information when making plans. To shop for cheap hotel rates, compare hotels using the travel tools, or simply check out the last minute hotel deals, visit http://www.MoreHotels4Less.com.
About MoreHotels4Less.com
Launched in 2008, MoreHotels4Less.com offers the lowest rates on hotels, hotel deals and vacation packages so that customers can plan their entire vacation in an easy and convenient manner. They have been recognized by both Frommers.com and TopTenReviews.com as being one of the best hotel websites online. They believe that all travelers deserve the best online travel experience when reserving their hotel so they ensure that visitors easily find the information they need to make the right hotel choice for their trip.
###