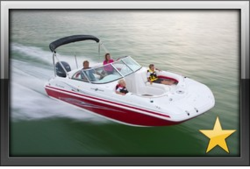 Marine Connection is delivering the Hurricane collection for those who are interested in investing in one of the leading forces in the boating industry.
West Palm Beach, FL (PRWEB) January 07, 2012
Marine Connection is proud to announce that in addition to the already overwhelming inventory of quality motorboats, they are now adding the highly demanded Sea Fox and Hurricane boats to the collection. Fans of both the Sea Fox and Hurricanes have awaited this news as they look to scour the daily updated Marine Connection inventory to find the perfect boat to suit their needs at the most complementing prices.
With a reputation of representing only the best boats, Marine Connection is delivering the Hurricane collection for those who are interested in investing in one of the leading forces in the boating industry. Hurricane boats have held rank as the leader in the outboard for many years. By cutting cost in the manufacturing of their boats while keeping the amenities customers have grown to love, Hurricane has acquired a reputation for offering the best value in boating. This watercraft guarantees to provide superior versatility, comfort, options, performance and handling. As the market leader in deck boats, Hurricane is in high demand for those who prefer space and luxury to be included as parts of a complete package.
Marine Connections line of Sea Fox boats is now available for that exhibit a preference for diversity in design and quality craftsmanship. Sea Fox offers Florida's #1 selling center console watercraft. These fisherman-friendly boats with full amenities can be found at unbeatable prices at Marine Connection. The quality guarantee of these boats extends to Sea Fox offering one on the best warranties in the business. This includes a lifetime hull warranty. Adding Sea Fox to the Marine Connection inventory opens the door for many boat enthusiasts to acquire the boat of their dreams at an incredible discount.
Located in West Palm Beach, Marine Connection has the largest selection of used boats in Florida with an inventory spanning 3½ acres. Exporting boats to various locations is made easy with immediate access to the Atlantic Ocean located within minutes from the facility. Since establishment in 1987, Marine Connection has exported over 10,000 boats worldwide, ranging in size from 13ft to well over 50 ft. "Very Helpful, Great Service, Good Communication, Easy Shipment to Australia," says Joe from Australia after acquiring a watercraft from Marine Connection. The goal of Marine Connection is to provide the international boat dealer and/or buyer with a seamless and professional export service. Exporting is complete with Marine Connection as they handle the entire process including, but not limited to, shrink wrapping, trucking, cradles, CE certification and affordable ocean freight for transporting.
# # #
If you would like more information about Marine Connection or you are interested in an exclusive listing of boats to be exported to your location, please contact Marine Connection at (970) 328-9519 or visit the website at http://www.marineconnection.com.
Marine Connection is also a part of your favorite social network. Check out the Facebook page at http://www.facebook.com/marineconnection and Twitter, http://www.twitter.com/#!/BuySellBoats, where you can find information on listings, new arrivals and dealer information. For a virtual tour of available inventory, feel free to visit the YouTube page at http://www.youtube.com/marineconnectioninc.