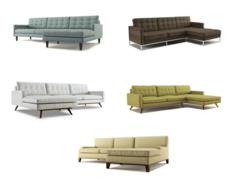 Los Angeles, CA (PRWEB) January 06, 2012
Thrive Home Furnishings is proud to announce the arrival of five new mid century sectional sofas available in a wide selection of colors to match any decor. Sectional sofas provide a unique sense of style and use of space in a room. Director Josh Stellin echoes this sentiment. "Sectionals add the additional seating space we need," Stellin notes. Sectionals provide additional seating, but do not take up that much extra space in a room. Stellin adds that "the sofa and chaise configuration [of a sectional sofa] leads the way for lengthening current sofa dimensions" while providing the same comfort provided by a standard chaise lounge.
Each sectional is available in a variety of fabric and leather choices. The orientation of each sectional can also be changed to fit the needs of just about any room. Each sectional has special design features that set it apart from the others in the collection. The Tyler Sectional features button tufted seats and backs to add overall volume. The Sullivan Sectional is based on the famed Florence Knoll design scheme, with a combination of contemporary and modern design elements. Each of these sectionals has crisp lines to make any one of them fit perfectly with existing furniture. Button tufting, a flared solid wood base, and full body welting characterize the Taylor Sectional. The Madison Contemporary Sectional features square arms and a T-cushion design with a high back and deep seats.
Thrive Home Furnishings is a division of Versa Products Inc., specializing in eclectic mid century modern furniture popular in the 1950s. Thrive offers new designs that capture the styles of this period. Each sectional comes in 14 fabric choices and four leather choices. Every piece of furniture sold by Thrive comes with a 21-day guarantee. Top quality raw materials are used to manufacture the company's furniture, with an emphasis on eco-friendly design. Thrive is a proud member of the Sustainable Furnishings Council. All five of these new sectionals can be viewed and purchased online or at Thrive Home Furnishings, located at 14105 Avalon Blvd. in Los Angeles, California. Call (888) 338-1445 for additional information.
###