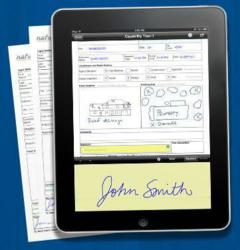 This disruptive technology offers unsurpassed workflow optimization and is a true game-changer for mobile data capture.
Miamisburg, OH (PRWEB) January 10, 2012
ExpeData, an innovative software company and a global leader in natural input technologies, will demonstrate the latest solutions for mobile data capture and forms management in the Vision Objects booth #36073 at the 2012 International Consumer Electronics Show (CES) on January 10-13, 2012 at the Las Vegas Convention Center.
naturalFORMS™, ExpeData's next generation enterprise forms application, provides the power to automate forms-based data collection at the point of entry using handwriting and other methods of natural input with straight-through processing to backend systems. naturalFORMS significantly enhances productivity and meets the growing demand for business applications that facilitate paperless workflows.
Leveraging its market-leading EDW® software platform and MyScript technology from Vision Objects, the leading provider in handwriting recognition technology, ExpeData is one of the first software companies to offer a transformative enterprise forms management solution that leverages handwriting and other forms of natural input on tablet devices.
naturalFORMS allows users to easily and efficiently complete business forms on iOS and Android tablets via multiple input methods. The application supports advanced input methods including voice, photo and graphics. Users can record a voice memo and attach it to a form, take a photo with the device camera or select an existing or imported photo from the camera roll, annotate as needed and attach to the form, make notes or mark-up diagrams or schematics, and create freehand drawings. naturalFORMS even captures handwritten signatures and GPS coordinates for enhanced accountability and operational control.
Handwritten input is immediately interpreted and converted to digital data with instant feedback if form data is incomplete or does not adhere to enterprise rules. Straight-through processing allows high quality data to flow seamlessly into back-end systems, eliminating third party data entry and verification, significantly accelerating business processes. naturalFORMS is available as a hosted application or can be installed on premise.
"By leveraging natural input such as handwriting with verification at the point of entry and straight-through processing, naturalFORMS removes the inherent inefficiencies of processing paper forms and has the potential to offer enterprises substantial cost savings," said Paddy Padmanabhan, CEO, ExpeData. "This disruptive technology offers unsurpassed workflow optimization and is a true game-changer for mobile data capture."
Visit booth 36073 in the LVCC South Hall 4 - Upper Level & Connector to learn how naturalFORMS can transform mobile data capture workflows and download the free demo app on the App Store℠.
About ExpeData®
ExpeData is an innovative software company and a global leader in natural input technologies. ExpeData has created an end-to-end software platform that automates the collection of natural input including handwriting at the point of entry. Information captured with tablets or digital pens is immediately converted to digital data and seamlessly integrated to backend systems. Straight-through processing eliminates cycle time delays, resulting in unsurpassed workflow optimization and significant cost savings. EDW solutions are used across the globe, delivering value in multiple industries. To learn more, visit http://www.expedata.net.
About Vision Objects
Based in Nantes, France, Vision Objects develops and markets accurate high performance handwriting recognition technology for touch and pen based user interfaces, and provides solutions for digital ink management, for searching in handwritten text, and for the recognition of geometric shapes and mathematical equations. Vision Objects MyScript technology is available for all major Operating Systems including Windows, MacOS, Linux, iOS and Android, and for more than 30 languages including Chinese, Japanese, Korean, Arabic and Hebrew, addressing market needs in the Americas, Europe and Asia Pacific. For more information, visit http://www.visionobjects.com.
###