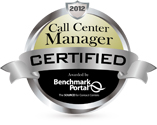 The class exceeded my expectations. I returned to work today feeling very motivated and armed with some new skills and knowledge to make a difference here at Forethought.
Shelia Merkel, Manager, Client Services Forethought Financial
Santa Barbara, CA (PRWEB) January 05, 2012
The management certification workshop is composed of information-rich modules that offer lectures, discussions and learning activities in the form of case studies that examine practical problem solving and current best practices. Originally developed by Dr. Jon Anton of Purdue University, the curriculum has been expanded and updated by Bruce Belfiore, Dean of the College, Lead Instructor Dayne Petersen and a selected staff of industry experts.
The course focuses on specific areas of call center management that include organizational leadership, human resources, quality monitoring, customer satisfaction, the basics of WFM forecasting and scheduling, call center technologies, technology-enabled processes, knowledge management, caller self-service, analytics and reporting, and benchmarking.
Small class size allows for one-on-one interaction with the instructors, as well as networking opportunities with colleagues and industry peers. Participants also leave with "take aways" that are meant to enable them to make a real difference in their centers.
Participants in these workshops typically include Call Center Managers, Directors and Vice Presidents. The courses are designed to enable these leaders to better manage their call centers and strengthen relationships with other departments. Every attendee receives complete course documentation and a comprehensive workbook.
All call center training courses by BenchmarkPortal include access to a complimentary Benchmarking Report and web-ex style presentation of the individual's benchmarking results with their College instructor, following the course. Managers report that they really appreciate the combination of interactive classroom work along with personalized focus on individual needs and challenges. This approach is considered to be unique to BenchmarkPortal's College of Call Center Excellence training.
True quality call centers exist as a result of quality training. BenchmarkPortal helps your employees get the training they need, so that your call center performs at the levels you and your superiors expect.
View the Calendar here for Call Center Training - Management Certification >>

Orlando, FL, Jan. 24-26, 2012
Las Vegas, NV, Feb. 28, 29, Mar. 1, 2012
Phoenix, AZ, Mar. 20-22, 2012
Jacksonville, FL, Apr. 24-26, 2012
Virginia, May 15-17, 2012
Minneapolis, MN, June 19-21, 2012
San Francisco, CA, Aug. 21-23, 2012
Hamilton, NJ, Sept. 18-20, 2012
San Diego, CA, Oct. 16-18, 2012
Call Center Campus, Las Vegas, NV, Nov. 5-9, 2012
About BenchmarkPortal
BenchmarkPortal is the leader in Call Center Benchmarking, Call Center Certification, Call Center Training and Call Center Consulting. Since its beginnings in 1995 under Dr. Jon Anton of Purdue University, BenchmarkPortal has grown with the customer service industry and now hosts the world's largest call center metrics database. Currently led by Bruce Belfiore, the BenchmarkPortal team of professionals has gained international recognition for its call center expertise and innovative approaches to Best Practices for the customer service industry. Listen to the first online talk show specifically focused on the customer service industry - CallTalk. Bruce Belfiore along with industry experts will dive into current discussions surrounding best practices and ways to improve your center. BenchmarkPortal's Web site can be found at http://www.benchmarkportal.com
# # #