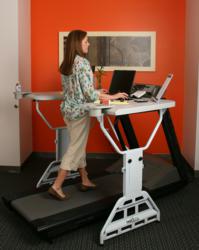 It appears to be helping many Americans with one popular New Year's Resolution - weight loss.
Scottsdale, AZ (PRWEB) January 05, 2012
TrekDesk treadmill desks have gained a lot of national notoriety in the past two years as a means for employees to restore health, prevent disease, increase productivity and boost mood. However a Hall of Fame Radio DJ with KEAN in Abilene, Texas offered a different take last week. TrekDesk, he says, may be just the ticket to keeping this year's New Year's health resolutions.
Rudy Fernandez, radio host with KEAN radio, famous for charity fund raising events totaling more than $1.5 million during his career, knew the value of the TrekDesk the moment he saw it. "There's a new desk that is transforming offices all across America, it's called the TrekDesk and it appears to be helping many Americans with one popular New Year's Resolution - weight loss. Losing weight is the most popular resolution, but now we have help from a simple piece of office furniture, a stand up desk that incorporates the electric treadmill."
"Our nation's health is spiraling downward yet simple changes such as walking 10,000 steps a day could reverse this trend in short order," stated Steve Bordley, CEO of TrekDesk Treadmill Desks. "We are happy to see that Rudy related the benefits to his listener's and joined forces with our Movement Revolution."
Designed to fit any existing treadmill, TrekDesk treadmill desk is an affordable, full sized, height adjustable workstation that allows individuals the opportunity to gain the necessary amount of exercise daily to maintain health, prevent disease, strengthen muscles, boost mood and productivity, without requiring additional time during the day or extra motivation. Workout at work with TrekDesk. No sweat!
TrekDesk is currently available for sale online at TrekDesk.com for $479.00 including free shipping.
Join the TrekDesk "Movement Revolution" to learn more, win a free TrekDesk or ask us any questions anytime at http://www.facebook.com/trekdesk, or follow us on twitter -http://www.twitter.com/trekdesk.
# # #