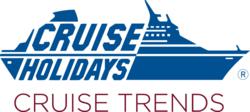 These two regions are the clear-cut leaders when it comes to the bang for the buck that a cruise vacation can provide.
Minneapolis, MN (PRWEB) January 06, 2012
Cruise prices remain in consumers' favor going into 2012, according to the Cruise Holidays 2012 Cruise Trends survey, with prices to the Caribbean and the Mediterranean still averaging lower than they were in 2008, 2009 and 2010. However, prices to these destinations have actually risen slightly since 2011, which is seen as a positive trend overall by the cruise industry because it demonstrates increased demand for travel.
Additionally, Celebrity Cruises boasts the most popular new ship for 2012, according to Cruise Holidays cruise experts across North America.
These are just two of the more noteworthy trends coming out of the Cruise Holidays 2012 Cruise Trends survey, which is based on actual bookings from Cruise Holidays' proprietary booking system, as well as from a supplementary opinion survey taken by 118 Cruise Holidays owners and agents. The bookings include any staterooms booked by Cruise Holidays in 2011 for any cruises slated to begin in 2012.
Most Popular Ships:
Celebrity's "Solstice" Class & New European River Ships Capture Cruisers' Hearts
In this year's survey, Cruise Holidays experts voted the fifth and final Solstice-class ship, Celebrity Reflection, as the ship they are most anticipating for 2012. Reflection will sport an additional deck compared to previous Solstice-class ships, with three new types of suites, and more than 50 international craft beers in its enhanced "Michael's Club." Reflection will do a short series of European itineraries when it debuts in October, then will cross the Atlantic to cruise the Eastern Caribbean.
The second most popular ship expected in 2012 is an upscale river cruise ship: AmaWaterways' Amacerto. The Amacerto is a 164-passenger ship that will mark its inaugural cruise with a cruise through Holland and Belgium this April. Thereafter, it will sail some of AmaWaterways' most popular itineraries, with frequent visits to Prague, Nuremburg, Budapest, Vienna and more. The Amacerto features extra-spacious suites, deluxe hotel-style bedding, and a heated sun deck swimming pool.
Rounding out the top five in the survey of most popular ships for 2012 are the Disney Fantasy, Oceania Cruises' Riviera and Viking River Cruises' Freya, also a river-cruise ship.
Top Cruise Destinations
The top 10 cruise destinations for 2012, based on bookings made in 2011, are as follows:
1. Caribbean (includes Bahamas)
2. Europe (includes Med, Baltic, Scandinavia and Greek Isles
3. Alaska
4. Bermuda
5. Hawaii
6. Panama Canal
7. Mexican Riviera
8. Trans-Atlantic
9. Canada/New England
10. South Pacific
Value in Caribbean & Europe
Cruise Holidays experts predict the best cruise values will also remain in the Caribbean and Europe. "These two regions are the clear-cut leaders when it comes to the bang for the buck that a cruise vacation can provide," stated Schiffner. "On the flip side, with fewer cruisers turning to the Mexican Riviera as a top vacation choice, its value proposition is increasing. Mexico's famed Gold Coast is pulling out all the stops to showcase its world-class beach communities, which depend on tourism for their livelihood," added Schiffner. The top five "cruise value leaders" are as follows:
1. (tie) Caribbean
1. (tie) Europe
3. Alaska/Pacific Northwest
4. Mexican Riviera
5. Other (including Hawaii, Bermuda, Asia, South America and Dubai)
6. Trans-Atlantic
Cruise Holidays is the most successful cruise-specialty retail franchise in North America, with stores and virtual offices in both the United States and Canada. Cruise Holidays is also a distinguished provider of land tour vacation packages. Founded in 1984, Cruise Holidays is part of Travel Leaders Group. With approximately 30% of all travel agencies in the U.S. and Canada under its umbrella, Travel Leaders Group serves millions of individual leisure travelers, as well as select corporate clients and destinations.
###