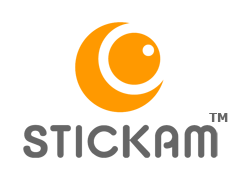 The Stickam social login feature makes it possible for hosts to control access to their live stream and chat, whether for added privacy or to promote social engagement. ~Hideki Kishioka, co-founder of Stickam
Los Angeles, CA (PRWEB) January 06, 2012
Stickam, the largest live online video community with over 9 million members, today launched the first unified live chat system allowing users to join chats with their login credentials from Facebook, Twitter, Google+, MySpace and LinkedIn. The site's broadcasters can now engage their friends or fans in one combined master chat room rather than juggle multiple windows during live streams. Additionally, live show hosts can restrict chats to just their Fans, Friends, Followers or Contacts.
Stickam's new social login provides ease-of-use and a lower barrier of entry for fans and friends. Viewers are no longer required to create a Stickam account to join a chat room if the broadcaster chooses to allow them to login with other social login credentials.
For bands, celebrities and corporate brands looking to build their social channels, Stickam's new social login feature offers conditional access to live chats. Broadcasters can now "Fan Gate" their live shows, requiring viewers to "follow" them on Twitter or "like" them on Facebook to interact during a live chat. Likewise, businesses and conferences also now have the option to restrict live chats to their LinkedIn Contacts.
For social users, the social login feature provides an entire new suite of privacy options. Stickam members can restrict access to their live broadcasts and video chats to only their friends or connections from the included social networks, extending these circles of friends and contacts to the Stickam universe.
"Our broadcasters wanted a streamlined way to chat with their friends and fans from an array of social networks, so we have empowered them to choose exactly which networks they want to engage at any given time," said Hideki Kishioka, co-founder of Stickam. "Essentially, the Stickam social login feature makes it possible for hosts to control access to their live stream and chat, whether for added privacy or to promote social engagement."
About Stickam:
Created in 2005, Stickam was the first live streaming network and today is home to the largest live online video community with 9 million registered broadcasters. Based in Los Angeles, California, Stickam consistently achieves 10+ million unique monthly visitors, delivering a highly engaged and built-in audience for live video streams. To learn more, please visit http://www.stickam.com
###