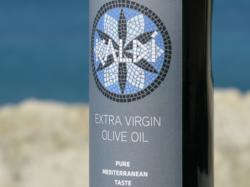 Lorton, VA (PRWEB) January 09, 2012
Kaldes Brothers Trading Company is proud to announce that Victory Garden NYC is now carrying Kaldí - Pure Mediterranean Tastes. After tasting Kaldí's Extra Virgin Olive Oil made of the rare Greek Kolovi and Adramytiani olives, Victory Garden NYC chef and owner Sophia Brittan decided to prepare her lunch menu of wholesome sandwiches and soups sourced by local farms with Kaldí. Victory Garden's spice cabinet, which contains all the ingredients that Chef Brittan cooks with, will also have Kaldí available for purchase.
In just 14 months since launching, Kaldí Extra Virgin Olive Oil and Tomato Sauces from Greece have become available to customers online at kalditastes.com and at more than 25 high-quality retailers and restaurants nationwide, including two locations in New York City - Victory Garden NYC and MastihaShop in New York's Lower East Side. These fine products have been highlighted at industry trade shows, in the Washington Post and in DC Modern Luxury. Greek-American brothers Greg and Peter Kaldes, own and operate Kaldes Brothers Trading Company. Greg and Peter were born in New York and are delighted to be bringing their products home for their fellow New Yorkers to enjoy.
In August 2009, the brothers launched Kaldí – Pure Mediterranean Taste to offer simple yet sophisticated Greek food that they grew up eating. With oils made from rare Greek olives, and all-natural tomato sauces that combine the freshest island vegetables with aromatic herbs and spices, Kaldí brings you the pure Mediterranean tastes of Greece.
###