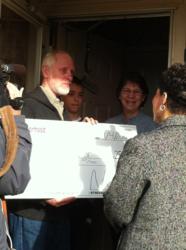 Mesquite, Texas (PRWEB) January 05, 2012
When he opened the door of his Mesquite home Wednesday morning, Thomas Haskins received a very welcomed surprise: an unexpected $25,000 gift presented to him by leaders of Neighborhood Credit Union, his family's long-time financial institution.
Haskins, along with his wife and grandson, were utterly speechless as Neighborhood Credit Union CEO Chet Kimmell and Senior Vice President Carolyn Jordan presented him with an oversized "check" for $25,000. The actual prize is being deposited into Mr. Haskins' Prize Savings Account at the credit union.
"I don't know what to say," said Haskins, with tears in his eyes. "When I got the call that you wanted to deliver a prize, my wife got kind of excited that it might be a new TV or something. But getting $25,000 deposited into our savings account is far, far better."
A retired clerk with the U.S. Postal Service, Haskins has been an active member of Neighborhood Credit Union since 1993 and a resident of Mesquite since 1986. He and his wife, Phyllis, have used the credit union for checking, savings and loans. Haskins noted, "We've had a very good relationship with Neighborhood Credit Union for many years and love the friendly, helpful service. To be honest, the people at our Mesquite branch are so familiar, they're almost like family."
Neighborhood Credit Union's Prize Savings Account was created to promote and incentivize good savings habits. The credit union offers prize drawings throughout the year, culminating with the annual $25,000 grand prize at the beginning of each year. The credit union drew the name of the 64-year-old winner from among all its Prize Savings Account holders.
"It is so rewarding for Neighborhood Credit Union to be able to offer the Prize Savings Account to encourage our members to save their money, even when times are tough," said Kimmell. "The Haskins family is a great example of the rewards that can come from putting money away for the future."
How the Prize Savings Account works: Credit union members receive one drawing entry for every $25 monthly average balance in their Prize Savings Accounts. The greater the savings, the greater chance a member has of winning. Each month, drawings are held for prizes including $1,000 cash awards. Each quarter, the credit union also awards a plasma TV and $1,000 in cash. A $25,000 grand prize winner is drawn based on the amount in savings at the close of business December 31, with the drawing and delivery taking place at the beginning of January.
About Neighborhood Credit Union: The oldest credit union in Dallas (chartered April 18, 1930), Neighborhood Credit Union is a not-for-profit financial organization serving Dallas and Ellis counties, as well as the city of Arlington. With branches in Oak Cliff, North Dallas, Arlington, Mesquite, Duncanville, Lancaster, Richardson and Waxahachie and assets topping $290 million, Neighborhood Credit Union has a membership of 30,000 and continues to welcome new members daily. For more information on Neighborhood Credit Union, call (214) 748-9393 or visit http://www.myncu.com.
###