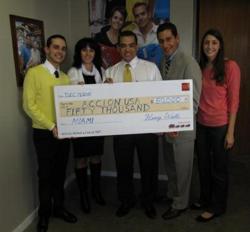 "We're pleased to be working with ACCION USA in South Florida to help our communities succeed financially," -Wells Fargo Regional President for South Florida
Miami, Florida (PRWEB) January 31, 2012
ACCION USA, a leader in U.S. microfinance, was awarded a $50,000 grant from Wells Fargo. The grant – part of Wells Fargo's commitment to economic development in South Florida – ensures access to financing for local entrepreneurs through ACCION USA's microloans.
CNN Money recently named ACCION USA a top 10 microfinance company in the United States, based on its 20-year history in successfully serving over 20,000 clients with $120 millions in microloans. By funding small business dreams and empowering self-starters, ACCION USA stimulates the local economy with job creation.
"Southern Florida was one of the hardest hit regions of the country, but don't tell that to the local entrepreneurs. These people create products and services people buy daily and employ local residents in an effort towards self reliance", said Paul Quintero, CEO of ACCION USA. "Wells Fargo is investing in the 'can do' spirit of South Floridians and we are honored to be their partner in the revitalization effort."
Quintero says the $50,000 will strengthen ACCION USA's microlending and financial education program in Florida.
"We're pleased to be working with ACCION USA in South Florida to help our communities succeed financially," said Frank Newman, Wells Fargo Regional President for South Florida."This grant will help the organization provide much needed resources to the micro-enterprises it supports in the region."
About ACCION USA
ACCION USA is a private, nonprofit organization that serves low- and moderate-income individuals, primarily minorities and women, who are unable to access mainstream business loans and financial services. A pioneer and recognized leader in the domestic microfinance field, ACCION USA is dedicated to providing microentrepreneurs and individuals on the economic margin with the crucial chance to access capital and develop greater financial literacy. ACCION USA is a member of the U.S. ACCION Network, the largest U.S. microlending network, with over $272 million lent since inception in 1991. ACCION USA business loans range from $500-$25,000 and are offered nationwide via the ACCION USA online lending platform. For more information about ACCION USA's small business loan products, visit http://www.accionusa.org.
About Wells Fargo
Wells Fargo & Company (NYSE: WFC) is a nationwide, diversified, community-based financial services company with $1.3 trillion in assets. Founded in 1852 and headquartered in San Francisco, Wells Fargo provides banking, insurance, investments, mortgage, and consumer and commercial finance through more than 9,000 stores, 12,000 ATMs, the Internet (wellsfargo.com and wachovia.com), and other distribution channels across North America and internationally. We want to help all of our customers succeed financially and create long-term economic growth and quality of life for everyone in our communities. In 2010, the Company invested a record $219 million in grants in 19,000 nonprofits, and team members contributed more than 1.3 million volunteer hours around the country. For more information, please visit:
http://www.wellsfargo.com/about/csr.
###