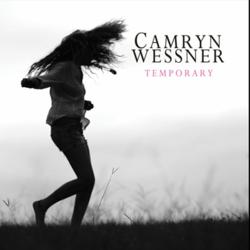 Gainesville, Florida (PRWEB) January 09, 2012
20-yr old Singer/Songwriter and multi-instrumentalist Camryn Wessner has just released her debut EP "Temporary", produced by Stan Lynch (Tom Petty and the Heartbreakers, The Eagles, Don Henley) and Billy Chapin (Sister Hazel, Edwin McCain). 
The Dothan, Ala., native said she draws influences from the music of her childhood, naming performers like John Cougar Mellencamp and Alison Krauss as some of her guides. As far as her own music is concerned, Wessner said she hopes she uplifts and inspires listeners of all types.*
"When you have something that you're so passionate about that you can live for every day, it makes life a lot more purposeful and meaningful to you and the way you live it," she said. "I would hope that I wouldn't just inspire musicians or artists, but that my music can help people be inspired to do what they really wanna do with their lives."
She also said Lynch and Chapin were the reason for the comfortable recording environment that captured what Wessner calls her easy-listening style of music. Lynch even co-wrote the title track, complementing Wessner's words and melody with music.*
"Since they've been in the industry and have been experienced for so long, I think it's just easy for them to make people feel comfortable so that they can perform the best," she said. "I think that's why they're so good at it. They bring out the best in me. They make me feel really comfortable with my abilities and collaborating."
Wessner recently opened for Ken Block and Drew Copeland of Sister Hazel, as well as opening for a much-anticipated reunion of the Dixie Desperados. She drew rave reviews at both concerts and is now preparing to hit the road to support her new release.
For more information on Wessner and the "Temporary" EP, visit her official website: http://www.camrynwessner.com. Facebook fans can listen to the entire EP for free by liking her Facebook page: http://www.facebook.com/CamrynWessner.
*Alyssa Holcomb, Avenue Writer, November 2, 2011
# # #