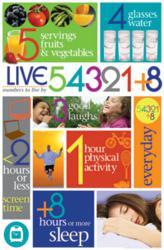 We all need sound bites of information that we can easily carry around in our heads.
Owatonna, MN (PRWEB) January 17, 2012
How many servings of fruits and vegetables should a child consume each day? How about glasses of water? Learning ZoneXpress's new "Countdown to Health" educational-product line, based on the easy-to-remember numerical slogan "54321 + 8," makes it simple for kids to remember the basics of healthy living.
The numbers refer to 5 servings of fruits and vegetables, 4 glasses of water, 3 good laughs, no more than 2 hours of screen time, 1 hour of physical activity, and 8 hours (or more) of sleep.
The new "54321 +8" countdown is available in a 23" x 35" laminated poster($16.95), a package of 100 two-sided bookmarks ($6.95) and a set of 10 magnets ($9.95). Visit http://www.learningzonexpress.com to order or for more details.
"We all need sound bites of information that we easily carry around in our heads," says Melanie Nelson, CEO of Learning ZoneXpress. "And what can be easier to remember than a countdown? And according to memory experts, the '+8' twist makes it – and what it stands for – even more memorable."
The six features of the countdown are critical aspects of physical, social, and emotional wellness, says Nelson. "And if kids learn them in school, they'll bring them home to the whole family."
They may even literally bring them home. "We have a poster for classrooms, libraries, offices, and lunchrooms, but we also have bookmarks and magnets that schools and community groups can give away," notes Nelson.
A "Live 54321 + 8" DVD is scheduled for completion in March, and Nelson expects that new products will be developed in coming months. "Right now, the products are aimed at an elementary and middle-school audience. But research shows that older teens need this information as well."
"Eating five servings of fruits and vegetables has been shown to reduce the risk of disease. Cardiologists at the University of Maryland concluded that laughter protects against heart attacks by reducing levels of stress-response hormones. And multiple studies prove that adequate sleep improves mental, physical, and immune functions," says Nelson.
Citing more research, Nelson points out that a significant percentage of children in the U.S. only consume two servings of fruits and vegetables a day, are chronically sleep-deprived, or are active for less than one hour each day. "The message of 'Live 54321 + 8' is definitely one that kids need to hear – and that's why we developed it."
Learning ZoneXpress, based in Owatonna, Minn., is a leading source of "edu-taining" and award-winning teaching tools. Its mission is to help improve the health and vitality of children by providing relevant, creative and affordable learning tools about life skills, healthy behaviors and nutrition. Learning ZoneXpress offers a wide variety of learning aids and affordable education DVDs, posters, games, lesson plans, and PowerPoint presentations.
For more information about Learning ZoneXpress products, visit http://www.learningzonexpress.com or call Toni Gnasdoskey at 888-455-7003.
###