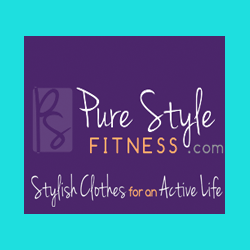 Pure Style Fitness is passionate about fitness and wants current and aspiring athletes to feel confident and comfortable in and outside the gym.
Chicago, IL (PRWEB) January 10, 2012
Pure Style Fitness introduces the Green Apple Spring 2012 Collection. This collection includes signature mix and match pieces. The core of this collection starts with a choice of a fitted yoga flare or a relaxed lounge pant. An exclusive feature to the Green Apple bottoms is their adjustable hem. The hem can be cut to personal length. Both pants come in black with red and blue sapphire color splashes or heather charcoal with tropic isle and orchid color splashes. For the gym, the fitted flare pant is completed with the collection's a-line tank, with a built in bra. This racerback tank comes in a selection of colors and shapes to the natural curves of the body. The fitted flare and a-line tank are great for use in a yoga or pilates class, as they fit snug to the body and are extremely flexible in movement.
For a more relaxed fit, the Spring collection includes a lounge pant, sporting a stylish graphic at the base of each pant leg. Additional pieces, such as the hoodie with kangaroo pocket, long sleeve tee or "batwing" tee match neatly with either the fitted flare or lounge pant. The three tops are great for wearing to and from the gym or for running errands. The hoodie includes a unique "Surrender" graphic while the long sleeve wears a "Bohemian Wave" on the chest.
What makes Green Apple special? All of its clothes are made of nearly 100% organic material. It is said that as you work out, chemicals in fabrics can absorb in your sweat. Green Apple uses organic bamboo and organic cotton along with spandex in the production of their clothes. The natural make-up of bamboo allows for breathability and removal of sweat from the skin, ideal to wear while working out. Organic bamboo also blocks UVA rays. The use of organic cotton is safer for the environment as it reduces the use of carcinogenic chemicals typically found in conventional cotton growth.
About Pure Style Fitness: Pure Style Fitness prides them self on offering a selection of designer brand fitness apparel that provide functionality and style. Today, fitness clothes are more than just for the gym. The quality of fabrics and stylish designs make them wearable for everyday errands. Pure Style Fitness has hand-picked selection of fitness, yoga and casual athletic apparel that can be worn to and from the gym, as well as every day. Also, many of the materials found in Pure Style Fitness' clothes are organic. The use of organic material is not only better against the skin; it is a positive move for the environment. The Green Apple line, found at Pure Style Fitness, is even biodegradable. Aside from the use of organic materials, all the materials found in the clothes of Pure Style Fitness create a durable, long-lasting product that won't lose shape or functionality.
Pure Style Fitness is passionate about fitness and wants current and aspiring athletes to feel confident and comfortable in and outside the gym.
###