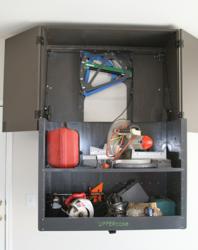 A participant will receive a reward for their creative description of the new innovative technology.
Dallas, TX (PRWEB) January 09, 2012
UPPERcase's new invention is intended to create, reclaim, and optimize usable space in residential garages. For example, many homeowners keep their expensive automobiles out in the weather, and have less valuable possessions in the garage. UPPERcase invites participants to provide feedback in the form of a market research campaign designed to determine receptivity to this product.
UPPERcase commissioned an independent market research company, Dallas Marketing Services, in the design, development, and distribution of their market survey to minimize survey bias and maximize the credibility of the obtained information. The firm is particularly interested in responses from skilled craftsmen, sports buffs, and outdoor enthusiasts who own residential garages.
The results from this survey will be compiled and made available to established companies interested in partnering with or licensing this technology with UPPERcase Inc. UPPERcase is committed to bringing its technology to partners that are best capable of commercializing the product in a variety of industries. Information about partnering with UPPERcase are published on the company website.
UPPERcase welcomes additional feedback and survey participation from interested parties. To see UPPERcase's invention in use and participate in this brief market research survey, please visit the following link: website.
For current news and information about this product, follow UPPERcase on Facebook.
# # #