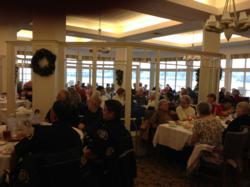 The Station 20 firefighters and medics are the best neighbors you could ask for."
- The Lakeshore's Executive Director, Cheryl St. Louis
RENTON, WA (PRWEB) January 05, 2012
On Thursday, January 12th from 12 noon to 2pm, King County Fire Station 20 firefighters and medics, along with The Lakeshore residents and leadership gather at The Lakeshore, 11448 Rainier Ave South, Seattle, WA 98178, to commemorate eight years of successful fundraising for Fire Station 20. During the celebration, The Lakeshore leadership will present a check for more than $4,000 raised by residents during the community's monthly fundraising luncheons in 2011.
For eight years, The Lakeshore has hosted monthly luncheons to support Fire Station 20. To date, the community, its residents, their friends and family have donated more than $43,500 to help Fire Station 20 purchase much needed medical supplies and equipment.
Visual story elements include:

Giant check presentation with Fire Station 20 personnel and The Lakeshore leadership
First aid supplies Fire Station 20 purchases with funds donated by The Lakeshore
Welcome remarks from Renton Chamber of Commerce delegation
Like many agencies that depend on state funding Fire Station 20 is experiencing budget cuts. Firefighter, Ryan Hopper says the donated funds help purchase supplies used in medic units and fire trucks to save lives of citizens ages zero to 100.
"For us, these firefighters and medics are the best neighbors you could ask for," said The Lakeshore's Executive Director, Cheryl St. Louis. "When your neighbors need help you help them. Giving back to these firefighters and medics makes perfect sense."
The Lakeshore is part of Era Living, a private, Seattle-based company of eight premier retirement communities. The Lakeshore offers a warm and vibrant lifestyle, with beautiful views of Lake Washington and Mt. Rainier. More information at (206) 772-1200 or http://www.eraliving.com/communities/lakeshore
###