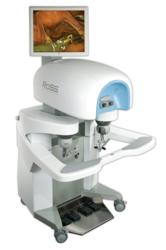 "Karolinska is thrilled to receive the first RoSS in Europe and can't wait to incorporate it into our robotic surgery training program," said Dr. Peter Wiklund, a renowned robotic surgeon at the Karolinska Institute.
Williamsville, NY (PRWEB) January 07, 2012
The RoSS is the first simulator of its kind to feature training for complete surgical procedures. Its patented Hands on Surgical Training (HoST) modules use augmented reality to guide the trainee through the actions of a master surgeon.
Founded in 2009, Simulated Surgical Systems, LLC (SSS) is a pioneer in the development of robot-assisted surgery simulators. The company is a collaborative effort between the Center for Robotic Surgery at Roswell Park Cancer Institute (RPCI) and the University at Buffalo's School of Engineering and Applied Sciences. SSS has produced one of the world's first simulators that closely matches the touch and feel of a robotic surgery system.
Co-founder Khurshid A. Guru MD is a staff physician in Urology and director of the Center for Robotic Surgery at RPCI and Thenkurussi "Kesh" Kesavadas PhD is the director of the Virtual Reality laboratory and professor of mechanical and aerospace engineering at the University at Buffalo.
###